In newborn pictures taken in the delivery room, most likely, the tots are wrapped in soft blankets of white, pink, and blue colors. It's the undoubted wrap in which many moms receive their babies, but their uses extend past the hospital to your home and other strategic areas. Why is it called a receiving blanket, and does it function similar to swaddling wrappers?
A garment made from natural materials and used to wrap newborns and infants during the first days of life. Soon after a baby arrives, you'll be using a blanket or two to swaddle, cuddle, wrap after a bath, and in various feeding or sleeping arrangements.
A receiving blanket is usually 30 by 40 inches, relatively inexpensive, and often sold in multipacks. They act as a mainstay of many expectant mother's lists and the ever-present gift at baby showers or when the newborn arrives. While used interchangeably with swaddling and burping clothes, here's where these blankets get their name.
Why The Versatile Baby Accessories are Called Receiving Blankets?
The soft, thin piece of cloth used for swaddling a newborn baby is called a receiving blanket. Usually made from bamboo or flannel cotton, fleece, or muslin, these blankets are the go-to hospitals when wrapping babies soon after birth. It's not surprising that you'll receive a few dozen receiving blankets droning your baby shower or when the little one arrives.
It's an icon with over 100 years of cuddling new tots. The receiving blanket you'll come across in American delivery rooms has a gender-neutral white color with stripes of blue and pink. Their versatility of use and how inexpensive the blankets are leads to the availability of various patterns and baby-related prints.
The story dates back to 1910, when Medline, an Illinois-based company, created the Kuddle-up line of hospital apparel. A.L Mills, the company owner, had initially specialized in surgical gowns and butchery aprons.
Mills made some changes when he started making receiving blankets as he had with hospital gowns. The fabric that used to have a reflective white became light-absorbing jade green. He moved the tie from the undignified back to the gown's side and made them patterned instead of their previously sold drab colors.
The blue and pink stripes on a white background were Mill's way of changing up styles again. Wrapping over 1.5 million babies each year, the Kuddle-up line of receiving blankets is still in use today and has become synonymous with hospital births.
What's the Difference between a Receiving Blanket and Other Baby Blankets?
While used interchangeably pretty much of the time, receiving blankets differ from a swaddling cloth in that they're smaller in size. A receiving blanket will typically be 30 square inches or with a 40-inch length.
Swaddle blankets are more prolonged and broader, explicitly made for swaddling your baby. Their materials are stretchable and will have a closing mechanism such as Velcro strips or pocket design to accommodate your tot. Fabrics for swaddles are more blanket-like than the flannel or bamboo cotton typically used for receiving blankets.
Receiving blankets, on the other hand, have multifunctional capacities. While you can explicitly swaddle larger children, these clothes are used to cuddle, burp, as a lining, and of course, as blankets. They also differ in size, materials, and design, all of which share softness, wash-ability, absorption, and quick-drying properties.
You can get baby blankets for covering up against the cold, swaddling and burp cloths for cuddles and spit-ups, and nursing, strollers, or car seat covers separately. Or you can invest in a few packs of receiving blankets and use them as a catch-all in your home or while on the go.
How Do You Use a Receiving Blanket?
From your baby's first day in this world, you'll be using receiving blankets almost daily for the next few months. Using a blanket or two, you can recreate a cozy environment that reminds your newborn of womb-like softness and warmth. You can squeeze more life out of these pieces of cloth even after your baby is done using them. That's by re-purposing or upcycling them into functional pieces that you or your child can use.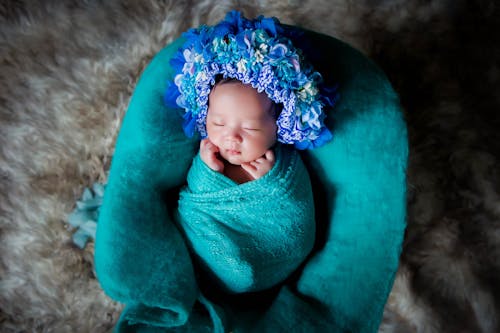 You can turn your receiving blankets into a cuddly toy, a pillow cover, banner, or garland for room decoration or as a cleaning rag around the house. However, the initial uses for these versatile fabric pieces involve swaddling and wrapping your baby in. to swaddle your baby in this blanket, you shall;
Spread the receiving blanket, preferably on a flat surface in a diamond shape. You can use the bed, floor or changing table to achieve this.
Fold the blanket top corner inwards several inches
Place your baby on its back with its head where the blanket is folded
Hold your child's arms straight down to their sides and wrap the blanket across their body
Do so for the other arm, lifting and passing the blanket under it
Draw the receiving blankets bottom corner up, folding until it comes near the neck
Your baby is now wrapped in its receiving blanket, looking more like a burrito. Keep trying if your child wiggles and kicks during the swaddling process since mastery will only come with practice.
Why Chose a Receiving Blanket Instead of Individually Designed Baby Linen?
Due to the risk of suffocation which your baby runs in the crib, several objects are prohibited. These include plush blankets, pillows, and stuffed animals, seeing as they can cause suffocation. To give your infant a comfortable and safe sleeping area, use a soft and breathable receiving blanket instead.
While keeping your baby warm, receiving blankets give your tot freedom of movement when asleep. You'll also be looking for the softness of this blanket's fabric as well as the lightness of the material. Blankets made from natural materials like cotton that aren't dyed or processed with chemicals work best.
Types of natural baby receiving blanket materials include;
Cotton
It's an ideal material for absorbing moisture and is breathable in hot conditions; cotton makes the best receiving blankets. It's soft and gentle on your baby's sensitive skin, while stain resistance, machine wash-ability, and drying speeds are top-notch.
Wool
 Another natural and breathable natural fiber, wool is excellent for sweat regulation, body temperature maintenance, and breathability. However, some types aren't machine washable and have drying issues that prevent the material from being common for receiving blankets.
Conclusion
Often sold in multipacks for less than ten dollars, receiving blankets are the epitome of soft and comfortable. Your baby's wrap is also functional to the point of acting as an alternative replacement to a swaddling blanket, burp cloth, diaper changing liner, and dining apparel. Besides that, the linen can still go into other DIY projects like pillowcases, cuddly toys, and furniture covers.
I'm Cathrine and I'm a 39-year-old mother of 3 from Utica, New York. And I'm extremely happy you've come to visit my hide-out on the web. Here I post about everything related to family-life and usually it will involve babies and lessons I've learned over the years from experts, friends, and my own mistakes. So hopefully you will find what i write fun and informational!