Infants outgrow things within months. It can be a hassle trying to keep up with sizes for your baby's blankets. However, with some crocheting skills, you can make items that fit the purpose, such as your child's wraps or throws with a personalized pattern design. But when creating a comforter, it's essential to ask yourself, what is the size of a crotchet baby blanket?
A crotchet or knitted blanket is the perfect gift for your or another mum's new baby. Typically, these blankets have 25 by 31-inch dimensions, but you can take it as far as 42 x 34 inches, especially if you knit rectangular. Depending on uses, that's a blanket size that will tide your child into their pre-teen years and beyond.
With crocheting, particularly blankets for a non-discerning baby, you can be as creative as the yarn will allow. You must, however, consider the size of blanket you're going to create, as well as the materials to use. Allow me to walk you through a guide to help you make an informed decision when making or choosing the right crotchet blanket for your baby.
Which Type of Baby Blanket Are You Planning to Crotchet?
Whether you're making or purchasing crotchet baby blankets, knowing which type of blanket your baby needs is important. From receiving ones to swaddles and loveys, you'll find that your child's size determines the blanket's surface area. As such, when you are crocheting for a newborn will differ size-wise with creating a swaddle.
Baby blankets are designed to serve a specified purpose. That's a factor that you must consider when looking into size considerations. Before getting into crocheting patterns and yarn types, decide which type of blanket your baby needs. Common sizes will depend on the blanket's application, which includes;
Lovey Blanket
Loveys are small-sized baby blankets that feature animal heads or creature designs. They're usually circular or square-like, with measurements of 10 inches square. While yours can be larger than that, a cute lovey with bunny ears will give your baby something to play with or hold on to. That's helpful when your child needs comfort or is developing motor skills.
Receiving Blanket
These blankets are used for multiple tasks. A flannel or bamboo cotton receiving blanket is the initial swaddle you'll receive your baby in from the emergency room. Their versatility means that you will use receiving blankets at least until your child is six months old or later.
You can also take one of these along with you in public. Use it to cover up while nursing or to make a diaper changing cover for shared tables. Receiving blankets is a staple for a baby shower and newborn gifts, and as such, you end up with more than a few. Crocheting this blanket isn't common, but you can use the regular measurements for 36 inches square or 40 inches squared.
Security Blanket
These types of blankets offer your baby comfort and can be kept for years on sentimental value alone. It's not uncommon to find an adult who still has their security blanket, always at hand in times of personal crisis.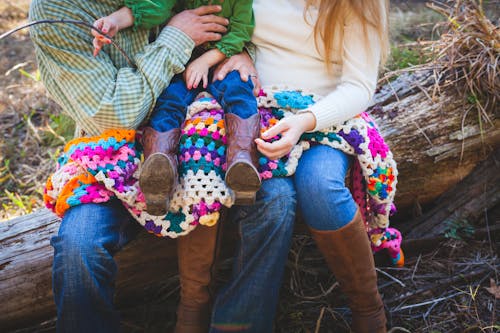 You can crotchet your baby's security blanket to any size ranging from 14 to 17 inches square. That means you're free to extend the surface area as much as suits your child's needs.
Stroller Blanket
While aptly named for their principal application, stroller blankets act as a cover for the seat or shade against excessive sunlight. It's essential for when you and your baby are out on the move. Made to fit a conventional stroller, your blanket should be thick to protect your child from the elements but light enough for breathability.
Crotchet your stroller blanket to any size between 30 inches square or with a length of 36 to 40 inches for rectangle knits. You can also use a stroller blanket in your baby's car seat, covering the chair to prevent sweating on hot days and covering up during cold weather.
Preemie Blanket
Use preemie blankets if your newborn baby was a pre-term delivery or when they have a compromised immunity for one reason or another. Large size is needed to cover a premature baby's bassinet, offering extra warmth and comfort, replicating a womb-like environment.
Preemies can be crotchet to square sizes of 15 inches on each side and up to dimensions of 25- and 30-inches square. While that's not extensive in adult terms, this large size of the blanket will work well to protect the delicateness of your baby.
Swaddling Blanket
Swaddling means folding your baby up in a burrito-like shape. It's recommended when you're calming, burping, or rocking them to sleep. A swaddle mimics the feeling of being held to keep your child from wiggling or rolling. These blankets also help to leave your hands free.
Usually made from muslin, you can crotchet your swaddle depending on your tot's size, especially when you've been using receiving blankets for the same up to two months after birth. Keep your blanket's size between 45 and 48 inches on width and length if you prefer to make a square.
Toddler Blanket
Toddler blankets are made for larger kids. You can crotchet a rectangular throw that helps your child when sitting, sleeping, or covering when outside. The blanket will range in size from 40 to 60 inches with a length that can extend up to 46 inches. You'll use a light but even crocheting for warmth without the addition of bulk.
Crib Blanket
By crocheting your crib blankets, you'll have the advantage of personalizing knit style, color, and size. The crib blankets also vary with how large your baby's crib is and for how long you want them to use it.
Other factors include how temperate your region is; you can crotchet them from a 36 by 54 inch small to larger dimensions of 60 inches. Use a decorative knit since this spread acts more like a bed cover for your child.
Conclusion
When crocheting for your newborn baby, the sizes of blankets will vary depending on the designation or use. That and the size of your child. However, the regular blanket will measure about 30 inches in length and 25 inches wide for rectangles or 36 inches on both sides for squares.
You can also crotchet loveys, swaddles, strollers, or security blankets in different shapes like circles, ovals, or animal shapes. Look at the crocheting design and then begin from there, considering the type of yarn you'll use, as some can be lacy with fingering weights.
I'm Cathrine and I'm a 39-year-old mother of 3 from Utica, New York. And I'm extremely happy you've come to visit my hide-out on the web. Here I post about everything related to family-life and usually it will involve babies and lessons I've learned over the years from experts, friends, and my own mistakes. So hopefully you will find what i write fun and informational!