For many parents, especially newborns, the choices for diapers are innumerable. As such, it can be headache-inducing to try and gauge the differences between the best selection for your infant or toddler. For instance, which is the winning diaper between Pampers Baby Dry and Swaddlers?
Both Pampers Baby Dry and Swaddlers are excellent newborn diapers. While there are plenty of similarities, stark differences also stand out. One such is the wetness indicator which one brand features on all its sizes, but the other only has in newborn to size two. A few aesthetic feature variances, or attention to detail, go a long way in delivering a long-lasting dryness guarantee.
Just as your baby is unique, so will your choice of Pampers diapers. To avoid confusion, let's make a comparison of the two most popular brands. After reading this article, you'll be keen on each of the diaper's features to provide the best dryness and protection for your munchkin.
Pampers Baby Dry vs. Swaddlers: What is the Difference?
It's no surprise that Pampers is not only a US household name for diapers but globally as well. The company's innovative products keep the disposable baby nappy market on its toes. Many are it's first among counterparts. These include nappies with improved absorption, dry channels, stretchy sides, wetness indicators, and super soft linings.  
Travel anywhere, to any grocery chain, convenience store, or online retailer, you're guaranteed to find Pampers diapers. Each of their diaper products is designed for your child's various development stages and ages.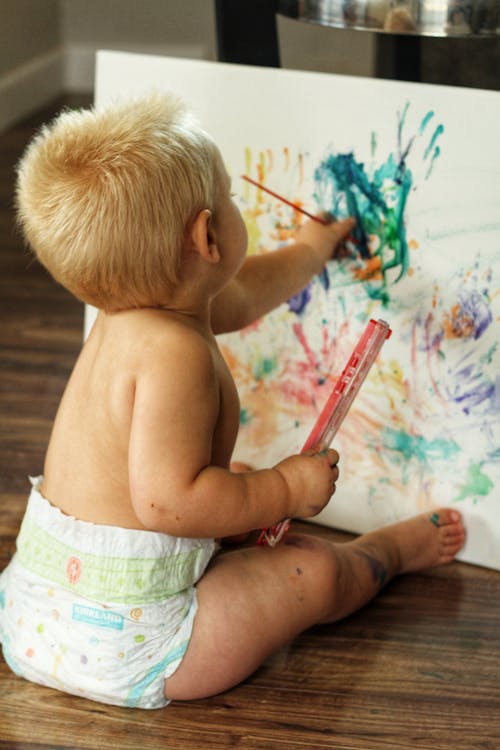 As the two most widely available newborn nappies, you might assume that Pampers Baby Dry vs. Swaddlers offers the same level of quality. While that's true, the rest does matter, as you'll find out one works well in circumstances where the others need to be cut some slack. Between these two diapers, outright differences as described by the manufacture include;
Absorbency:
Pampers Baby Dry absorb up to 21% more liquid than their counterpart. That's because this diaper contains three layers of Pamper's innovative absorbent technology.
Umbilical Cord:
Pampers Swaddlers feature an umbilical cord notch that isn't present on Baby Dry.
Softness:
Pampers Swaddlers contain a quilted interior liner that inhibits excessive moisture from affecting your baby's skin. While soft, Baby Dry only has a standard liner.
Breathability:
Pampers Baby Dry are designed for stretchiness which improves breathability. Even though Swaddlers have stretchiness, it's more focused on being softer.
Wetness Indicator:
Pampers Swaddlers offer a color-changing wetness indicator in all sizes, whereas baby dry has it only in newborns, sizes one and two. The idea is that in larger sizes, you'll be using the diaper overnight, changing your child as soon as they wake up.
What Are the Features That Set Apart Pampers Baby Dry and Swaddlers?
Looking through mum blogs and the many reviews done for the two Pampers diapers, it's easy to see conclusions leaning towards Swaddlers. That's especially true when newborns are the subject since comfort is one of this diaper's outstanding features. But let's pretend not to have seen online opinions or heard talk, but instead delve into these brands with unbiased curiosity.
While both Pampers Baby Dry and Swaddlers advertise 12 hours of wetness protection, one covers most bases. Unmatched softness is a big hit with newborn mums, but so is Baby Dry's super absorbency if your child is a heavy wetter. An UltraAbsorb core with three-channel interior construction translates to hours of wetness and leak protection. 
Here's an in-depth description of how Pampers Baby Dry vs. Swaddlers compares feature-wise.
Fit and Sizing
Fit improves on how long your baby can stay in a diaper after urinating. You can keep your child's skin rash-free with its moisture-wicking, while waistbands and leg cuffs prevent leakages. In that aspect, you must consider a diaper's snugness around your child's waist and legs rather than sticking to rigid size indicators.
Pampers Swaddlers were designed for newborns to six months, limiting usage to baby weights of between eight and 14 pounds. These are available from sizes one through seven. Baby Dry diapers accommodate babies weighing 16 to 28 pounds and go only up to size six. 
Standalone fit for a diaper isn't as essential as ensuring your toddler is in the right size for their body shape and weight. Both of these diapers have elastic and BPA-free polypropylene cuffs, fitting much the same way for your child. However, Pampers Baby Dry does have a stiffer feel than the ever-so-soft Swaddlers, but your kid's build or structure determines snugness.  
Absorbency and Leak Protection
Pampers Baby Dry and Swaddlers use a gel made from a super-absorbent polymer. The elemental chlorine-free fluff pulp makes up most of the diaper's core, which are air channels for breathability. Absorption ingredients for both diapers are essentially the same, but there's a 20% difference in how much liquid they hold.
Differences in absorption power hinge on how each diaper is constructed since Pampers Baby Dry has three absorbent core layers. That's the reason these diapers can hold a larger urine capacity, which is also wicked off your baby's skin, keeping them dry. Swaddlers accumulate the wetness and then spread it out over the channels, preventing leakage from blowouts.
Baby Dry diapers excel in overnight protection with leak locking innovation that works for 12 hours. At the same time, the side channeling of air prevents moisture, heat, and order buildup. That helps to keep coliform growth to a bare minimum, a major cause of diaper rash.
Lining and Lotion
In Pampers Baby Dry, the fabric that your baby's skin touches is made of polypropylene and polyester layers. Swaddlers contain the same lining, except an extra polyethylene ingredient makes the material softer to the touch. Stearyl alcohol, aloe barbadensis leaf extract, and petrolatum lotion are applied to these diapers' liners.
No matter which brand you take, there's an equal level of skin protection for your baby. But Pampers Swaddlers are endowed with a super soft absorbent lining compared to Baby Dry's polypropylene and polyester liner.
Wetness Indicator
The smaller sizes of Pampers Baby Dry and Swaddlers have no wetness indicator differences. That's until size four, but that's a discrepancy to look at because of diaper usage. Your newborn will pass less urine than a six-month-old, which is harder to recognize based on how the nappy looks or feels.
A wetness indicator is a yellow line traversing your baby from front to back and is present on all Pampers Swaddlers sizes. Baby Dry only has this feature on the newborn, sizes one and two. The sense here is that these ages are the only times you'll typically require reminding that your baby's diaper is wet.
Pampers Baby Dry vs. Swaddlers, What's the Best Diaper for Your Baby
Comfort and absorbency are not trivial attributes when considering the best diaper for your baby. To say they're critical is an understatement, and Pampers have ensured you or your child has nothing to complain about. Baby Dry and Swaddlers will offer 12 hours of wetness protection, super moisture-wicking capabilities, and softness to write home about.
The determinant factor when making a choice between Baby Dry vs. Swaddlers is your baby's age, together with how many diaper changes you want to do. It's not fun to change a four months old diaper for the fifteenth time in a day, and neither is waking up at night. The wetness indicators on both brands are super helpful, especially with newborns.
Besides having the heart quilted soft layered lining, Pampers Swaddlers have an umbilical cord notch when it's still healing. That makes this diaper a popular hospital item, as I am sure newborns do too. Since they go up to size seven, the softness translates to everyday comfort for the first two years of your baby's life.
Swaddlers have AbsorbAway liner, which results in a less messy and smelly diaper. That's achieved by pulling away wetness or soiling from your baby's bottom. While both diapers offer plenty of lovable features, I would advise a new mum to go with Pampers Swaddlers. If yours urinates like there's no tomorrow, especially at night, Baby Dry's will tide you over until potty training time. 
Conclusion
Pampers Baby Dry and Swaddlers are both proctor and gamble products, a name synonymous with reliable baby care since 1961. Superior absorbency and leakage protection are these diapers' by-words, as so are the company's many other brands.
There's no clear winner when comparing Pampers Baby Dry vs. Swaddlers as it boils down to absorbency and softness regarding your child's age and size. One is perfect for newborns, while the other keeps wetness and leakage down in older babies. Pricewise, there's no visible margin separating these two diapers.
It's best to use soft Pampers Swaddlers for your newborn's delicate skin between birth and six months. On the other hand, Baby Dry diapers are the overnight go-to due to long durations of managing your baby's wetness. These will work at optimum from around 6 to 12 months when your child can finally sleep through the night.
I'm Cathrine and I'm a 39-year-old mother of 3 from Utica, New York. And I'm extremely happy you've come to visit my hide-out on the web. Here I post about everything related to family-life and usually it will involve babies and lessons I've learned over the years from experts, friends, and my own mistakes. So hopefully you will find what i write fun and informational!