There are accessories for your baby that you can make, which can also be a gift to a newborn or a baby shower. Every new mother needs loads of swaddling flannels, but they'll sometimes become un-hemmed and start fraying. It's essential then that you learn how to hem a receiving blanket.
You can hem the edges of your receiving blanket with a fold-over, held in place by pins. There are options where you can leave the edges raw and sew along or over them when creating your accessory. Rolled hems made with a serger offer stretchy finishes that work well with mitered corners for your swaddling garment.
To hem a receiving blanket, you don't need an expert level of sewing. With various material possibilities available, it's easy to sew this baby's first swaddling linen from scratch. Below are tips for hemming this handmade gift to elaborate your personal touch and show how much you care.
What Does Hemming a Baby's Receiving Blanket Involve?
A receiving blanket is the first warm thing that a baby comes in contact with from the delivery room. A staple for newborns, this versatile accessory got its name from being the custom wrapping for a newborn in delivery rooms soon after birth. However, you'll find that its uses extend the immediate into months after a child's birth.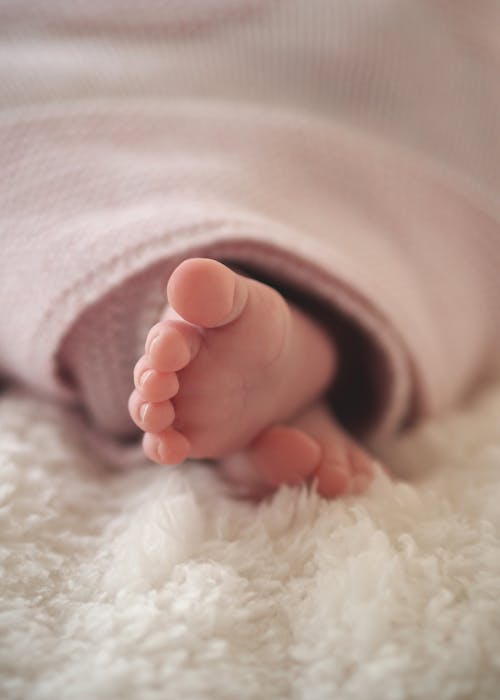 You can create a sizeable receiving blanket from pieces of soft plush fabric or maintain others that have frayed. Your blanket's material should be lightweight, breathable, and super soft, possibly made from natural fibers. Cotton flannel is my favorite fabric for most baby-related projects, or you can use muslin, also called gauze.
Unless you are creating quilted blankets, most of the sewing you'll do when making a receiving blanket consists of hemming. The rest is cutting. Strong hems equal durability due to edge integrity, and you can experiment with different stitching to produce a nifty-looking gift idea.
Will I Hand, Machine, or Serger Sew the Hem of My Receiving Blanket
For an expectant or new mother, the list of garments is long. However, you'll come to realize there are items you can quickly put together, recycle from hand-me-downs or repair the substandard stitching. Anything from swaddles, burp cloths, towels, footed pajamas, and receiving blankets will at one time need hemming.
If you DIY a receiving blanket for your baby or as a gift, you'll have to ace the final essential steps. One of these is knowing how to hem or seam, which you can do by hand, a sewing machine, or a serger. Hems are the finishing method of turning the blanket's edge over, folding, and sewing to keep the material unraveling.
Hand sewing all-around your baby blankets edges to hem them in is possible with overcast or blanket stitching. But it's a tall order and a serger's lockstitch works better. You can use a sewing machine's zigzag stitch or decorative rolled-hem, mock blanket, or edge stitches. You can also use embroidery to add a personalized touch with baby motifs or a monogram. 
How Do I Hem a Receiving Blanket?
Since you could be looking to hem your receiving blanket in numerous instances, I'll provide comprehensive instructions for hemming from uncut fabric material. Using flannel cotton or fleece involves cutting the frayed edges, measuring, and sewing with seam stitches.
When measuring the width of the fabric, including the folding width, so if you want a 45-inch square blanket, include two extra inches for the folds. Wash the fabric material before cutting so that it won't shrink and remove excess lint and dyes. It's also best to press or iron to remove wrinkling for more accurate measurements. That also helps in cutting, and pinning, especially when joining front and back pieces.
Next, you'll need supplies. These include cutting tools like a pair of tailor's scissors, a rotary cutter, a mat, and a ruler. A cloth measuring tape, straight pins, and a sewing machine or serger will come in handy to hem your baby blanket.
If you don't have either machine, you can hand sew the entire project using a basic running stitch. It's also possible to have rounded hems for your baby blanket instead of square corners.
Step 1: Measure and Trim Your Blanket Fabric
Assuming you're only using one side for a simple baby blanket, take the fabric material and fold it selvage-wise. That means the grain is straight, and the raw edges are to one side. Folding will have the frayed sides lining up so that the piece resembles a skinny strip.
Square up the flannel or bamboo cotton material, ensuring the raw edges are to your ruler's right side or vice versa if you're left-handed. Double-check the measurements of your fabric so as not to end up with a shorter baby blanket than you intended. Use a rotary cutter or a pair of scissors to trim the frayed sides once you've drawn a line with a pencil for the latter.
Step 2: Fold and Pin Edges
Depending on the seam you're looking to use, flatten out your piece of baby blanket fabric and fold over the edges. Turn folds towards the wrong side of the material. Take approximately ½ inch of the border, folding over twice to give you a hem that's ¼ inch wide. Pin at three-inch intervals using straight pins
Step 3: Sew Hems by Hand or Machine
If you're using a sewing machine, set it to zigzag stitching if available. Turn the stitch length and width to the highest level and sew along the baby blankets edges. With lightweight fabric materials, you can use wax or tissue paper positioned over the machine's feed dogs for more effortless movement.
If yours is a fleece blanket, you can secure the non-fraying edges. Sew a zigzag stitch hem about ¼ of an inch width. When you reach one end, use a backstitch to about 1 inch in the reverse direction and then sew forward again.
Conclusion
A baby's receiving blanket is the ubiquitous swaddle that you can use interchangeably during your child's baths, naps, or burps. It also makes an adorable gift for newly arrived tots or baby showers to use for comfort, nursing, or wrap-up in public.
After you've learned how to hem a receiving blanket, you can get different patterned materials to sew up. Baby blankets also feature decorative stitching below the hemline, and you can crotchet, braid or turn the edges into ruffles or ribbons. 
I'm Cathrine and I'm a 39-year-old mother of 3 from Utica, New York. And I'm extremely happy you've come to visit my hide-out on the web. Here I post about everything related to family-life and usually it will involve babies and lessons I've learned over the years from experts, friends, and my own mistakes. So hopefully you will find what i write fun and informational!