It's the first piece of cloth you'll receive your baby swaddled up and snuggled in at the delivery room. This blanket's iconic design has been around, and it's always at the top of any new mother's list. But as you prepare for your or someone else's newborn as a baby shower gift, how many receiving blankets do you need?
While you can have as many receiving blankets as you have space for, I would recommend six to a dozen. Besides its crucial initial application, you'll need at least three before each wash. That means two to use each day and one to spare. Your newborn or infant will have messes and spit-ups, and for protection, this softest cotton baby linen works best.
If like me, you do laundry every three days, your newborn's wardrobe should contain at least six receiving blankets. The blanket's multi-functionality makes it a must-have for every trip outdoors, and it's the perfect baby shower gift.
Why Do I Need So Many Receiving Blankets?
A receiving blanket is the gift wrapper within which a newborn gets placed in the exhausted mother's or birthing partner's arms. Usually made from thin, soft materials like flannel, bamboo cotton, or fleece, these blankets are typically small. They also come in various shapes, colors, and patterns for every style, plus it's easy to make one.
Stocking extra receiving blankets at home is helpful. Thats because other than the one your baby arrives in from the hospital, they have extensive versatility of use. These accessories are also inexpensive, and for less than $10, you can buy them in multi-packs. They're made to work in various temperatures and withstand daily use while resisting shrinking and fading from regular laundering.
When your baby is still young and womb sized, you can use a receiving blanket for:
Swaddling and Cuddling
While there are specially designed blankets for swaddle wrapping, you'll find a receiving blanket better at containing your wiggly newborn. These wrappers offer a suitable transition to the next step when the baby needs to snuggle in before sleeping.
Baby Bath Time
When your infant comes straight from the bathwater, a receiving blanket will absorb moisture and retain body heat. The material is also gentler on the skin than regular toweling fabrics.
Strolling Cover
When it's time for your baby to venture into the outdoors, receiving blankets offer sufficient protection from the glaring sun. You can also put a receiving blanket in the stroller on a cold day or when there's a possibility of rain.
Public Breastfeeding
Due to its small size and manageably soft fabric, receiving blankets are easier to carry around in a diaper bag for cover-ups during breastfeeding. Any spit-ups or dribbles can be quickly absorbed while offering your baby the required privacy during natural feeding.
Diaper Changing Platform
In public, you'll come across a not-so-sanitary diaper changing table. You may also want to protect surfaces from impromptu messes. A receiving blanket makes it easy for you to give your baby a clean space to change diapers.
Baby Playmat
While at home, your infant or toddler has lots of play spaces. You may want to sit them on a receiving blanket at the park or when visiting friends.
An Oversized Burp Cloth
For your baby that's a particularly messy eater with incredible spit-up projectile skills, a receiving blanket acts as a handy burp cloth.
Besides these pointed activities, baby receiving blankets offer protection and security for your tot. They can always feel around and find a piece of their legacy since birth. A familiar cuddling blanket will put babies to sleep faster, especially if they're picky about their bedtime routine.
What Else Can You Do with Receiving Blankets?
Using between four and six receiving blankets isn't uncommon, especially if your and baby are outdoorsy. At home, you may not care where the stains hit, but in public, the judgment is a little too harsh. A receiving blanket's stain resistance and wash-ability make it easier to take with you and cover-up from strong sunlight or a stranger's eyes.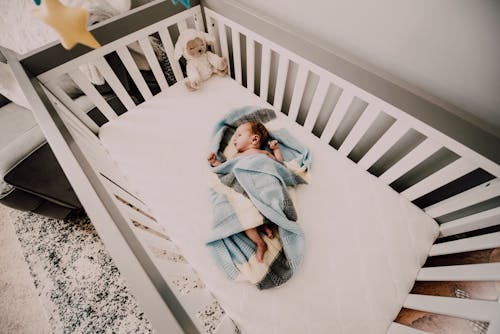 Besides that, you can place a few receiving blankets on the car seat as a cover, especially on a hot day of driving. If you want continued use of the versatile baby blanket fabric, other things, you can turn them into
Sentimental Mementos on Pillows, Quilts, or Stuffed Toys
You can sew and stitch out-of-use receiving blankets into pillowcases or quilts if you love to craft and DIY. When you've created your baby's swaddle and burping cloths, extend their sentimental value by making cuddly toys that your child can continue to use.
Room Decoration Garland and Banners
Other than that, your embroidered or patterned receiving blankets make pretty garlands and banners. There are simple instructions available online on how to turn these decorative baby elements into unique room décor. You can also create drop cloths or aprons for your kid's art projects so that they have the freedom to be messy while learning.
Donations, Gifts, or Cleaning Rags
Hand me down receiving new blankets that can be given to relatives or friends when they have a newborn or toddler. You can also cut up used ones as cleaning rags for their super absorbent, washable and quick-drying capabilities. Donate the versatile baby garments to an animal shelter where they'll add comfort to pups or kittens in their cages.
As with all blankets, don't place a receiving blanket in the crib or over your baby during sleep. Use those you've placed in the stroller or car seat with caution, keeping a close eye, so they don't cause overheating or restrict breathing.
Conclusion
Receiving blankets have the usage flexibility for use as swaddles, plus in various capacities around your baby. Your usage of each blanket will determine how many you need, and if you do regular washes, six will suffice each day. When you and your infant are stepping out or during diaper changing time, this soft cotton linen is the easiest to carry and whip out at a moment's notice.
To keep your baby safe, healthy, and in a clean environment, you'll need a couple of receiving blankets as spares. They are also easy to make, maintain and can be the perfect gift to a baby shower or when the newborn has arrived. 
I'm Cathrine and I'm a 39-year-old mother of 3 from Utica, New York. And I'm extremely happy you've come to visit my hide-out on the web. Here I post about everything related to family-life and usually it will involve babies and lessons I've learned over the years from experts, friends, and my own mistakes. So hopefully you will find what i write fun and informational!