Little ones are covered in super-soft fabrics with high absorption and quick-drying capacities. That's due to their sensitive, delicate skins and immune system constitution. With the many types of baby blankets available for expectant or new mothers, you must understand the best options for your child. So, what's the difference between receiving blankets vs. muslin?
The differences aren't that significant. Both cloth fabrics offer the same application, often getting used interchangeably. However, while they each consist of loose blanketing fabric, a muslin blanket is more lightly woven than the typical receiving blankets. Muslin cloths are also more expansive than the flannel cotton of a receiving blanket, which suits colder fall and winter weather.
Another common denominator for receiving blanket vs. muslin is the fabric material, which is natural cotton. Fibers of cotton make muslin which is the material from which flannel for receiving blankets comes from jersey cotton. By reading on, you'll know the difference between these two essential swaddling accessories for your baby's comfort and safety.
Why Get a Receiving Blanket vs. Muslin for Your Baby?
Choosing the right blanket for your baby is an essential step if you're to start mothering successfully and with less fuss. It comes down to the fabric material, seeing as many are either too harsh or heavy for your child's sensitive and delicate skin. Fortunately, cotton is processed into flannel, jersey, bamboo, or muslin, the perfect fabrics for receiving blankets and swaddles.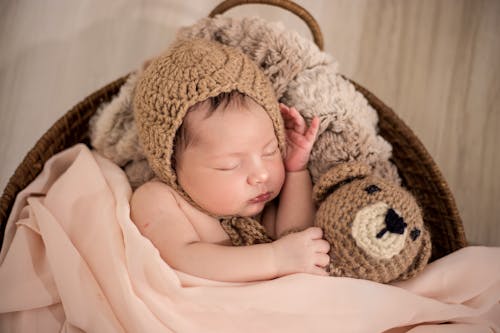 As swaddling garments go, receiving and muslin blankets take center stage for every family with a newborn baby. A muslin wrap offers a more breathable alternative while receiving blankets from the initial introductory swaddling stage soon after birth. They are larger than typical receiving ones used in hospital delivery rooms providing more extensive surface area.
A receiving blanket and muslin serve the same purpose, albeit in differing temperatures and wrapping capabilities. One of the differences between these baby accessory garments is their sizes. Typical receiving blankets measure 30 inches square, while a muslin wrap can exceed a 47 square inch surface area.
Another variance is in the make-up of the cloth fibers for receiving a blanket vs. muslin swaddle. As the more specialized material for swaddling blankets, muslin cloths feature elasticity or are stretchable. Using a plain weave alternating a warp twice over by a weft thread, a loose weave results in muslin.
Muslin is the product that fashion designers use to test pattern prototypes before the cutting and stitching of the final garment. The fabric comes in gauze, mull, Swiss, or sheeting. The fabric has roots traceable back centuries ago, during the British colonial era or what's today Bangladesh.
What's Muslin, and Why Is It Considered the Best Swaddling Blanket Material?
Anecdotes hold that seafarers traded muslin from Dhaka, Bangladesh, where the fabric was a precious commodity since prehistoric times. In history, cotton materials like muslin were at one time was as precious as gold.
Note that the first instance of Europeans coming into contact with muslin cloth was in Mosul, Iraq. Muslin soon came to represent economic oppression for weavers in the colonial Far East.
Locals weren't allowed to spin the fabric. Their masters imported it from looms in Liverpool, Leeds, and Birmingham in England. Mahatma Gandhi used to spin a muslin called khaki yarn as a protest to resist reliance on British imports that impoverished Indian farmers, weavers, and traders.
Reasons many new parents chose muslin fabric include;
Natural and Breathable
Unlike other materials like wool which traps body heat while prohibiting movement, muslin fabrics offer incredible breathability and softness.
Using a plain weave, cotton is freely woven to allow the free movement of air. That helps the fabric to retain an amount of warmth for your baby's comfort.
Mimics the Womb Environment
Due to the softness of the material, muslin fabrics envelop your baby in a warm, gentle cocoon when swaddled. The fabric tends to become softer with each wash, offering your child gentleness that's similar to what they had in the womb.
Comfort during Sleep
Muslin eliminates the discomfort that prevents your baby from getting restful sleep. Since nap time is an essential factor to your child's healthy growth, this soft fabric assists them in developing better sleep patterns.
Helps during Nursing
When you're breastfeeding, the lightweight muslin catch-all you've swaddled your baby in keeps them feeling your body heat. Its soft and snugness will allow you to handle your tot comfortably when feeding due to the firm grip.
What's the Best Fabric for Your Baby between a Receiving Blanket vs. Muslin?
Your baby comes to you soon after delivery within a receiving blanket. The ubiquitous cloth proceeds to make a mainstay in your home and is essential for when you're on the move or with your baby in public. That's mainly due to the softness, stain resistance, and absorbent nature of flannel or bamboo cotton materials that make these blankets.
There have been over 100 years of continuous receiving blanket use by new mothers all over. Traditionally this blanket was crocheted or knitted. Its cotton cloth variety soon became the practical gift for baby showers and newborns.
On the other hand, muslin comes in various weights and forms, including the high-quality cloth spun from evenly woven yarn. These soft and smooth fabrics have an even thread, maintaining equal width throughout the cloth.
Other coarser and lower-quality muslin fabrics have uneven yarns in their weave, often unbleached or bleached. The four grades of muslin cloth include;
Gauze
Gauze is an ultra-weight type of muslin. Gauze's sheer-width material is commonly used to dress wounds or as beverage filters. Double gauze is a fitting muslin blanket material, especially if you start learning how to hem a receiving blanket.
Mull
Mull is made from cotton, silk, or viscose. It's a lightweight muslin found in dress underlining and is a standard fixture for giving any garment structural weight. Designers and fabric manufacturers use it for pattern testing.
Swiss Muslin
You'll see this type of muslin in warm weather garments. Swiss muslin is lightweight, with raised dot patterns and of sheer weight.
Sheeting
Sheeting is the coarsest and thickets form of muslin ordinary in homewares and clothing.
Conclusion
Both the receiving blanket and muslin wrapper are helpful at home and when you're out and about. Wrapping up your baby in the iconic burrito shape offers the comfort and warmth they need to flourish. It also limits their startle reflexes or jerking movements, something familiar in the first five months.
I'm Cathrine and I'm a 39-year-old mother of 3 from Utica, New York. And I'm extremely happy you've come to visit my hide-out on the web. Here I post about everything related to family-life and usually it will involve babies and lessons I've learned over the years from experts, friends, and my own mistakes. So hopefully you will find what i write fun and informational!