Your primary healthcare provider may not have the expertise to provide treatment for any injury or condition affecting your ligaments, muscles, bones, and tendons. Orthopedists are specialists trained in diagnosing, preventing, and finding solutions for such illnesses. But what can you do when you have no insurance but need an orthopedic doctor?
Orthopedic doctors treat musculoskeletal conditions resulting from congenital disorders, accidents, sports, or work-related injuries. Such care can be costly when you have no insurance, but options are available where bills payment is negotiable. You can also take advantage of federal funding or discounts to keep your healthcare costs manageable.
If you have no insurance but require orthopedic care, consider free clinics and community health centers. Putting off seeing an orthopedist for fear of out-of-pocket rates only makes your condition worse, jeopardizing your health. In this article, I explore your options when you aren't insured but need the attention of these musculoskeletal specialists.
What's an Orthopedic Doctor and What Do They Treat?
An orthopedic doctor is trained to diagnose, treat, and help prevent conditions that affect the bones, ligaments, joints, tendons, and muscles. While most of these practitioners can also provide general care, others have received further training to specify in certain areas of your body.
According to the American Academy of Orthopedic Medicine or AAOM, specialties include hip and knees, hands, or spine injuries. Some orthopedists specialize in foot and ankle or shoulder and elbow conditions.
Orthopedic surgeons treat musculoskeletal conditions that are both commonplace and rare. Their practices will have several staff members that specialize in different bone or muscle areas. As a patient, no matter at what age, you'll be referred to such a doctor when you're suffering;
Osteoporosis, neck and spine injuries
Arthritis and hip dysplasia
Orthopedic trauma and fractures
Sports injuries, shoulder and back pain
Carpal tunnel and other hand or wrist injuries
Foot, ankle, knee, and Achilles' tendon injuries
Clubfoot and bowlegs
Bone cancer tumors
What Are the Signs That You Need to See an Orthopedic Doctor?
Many reasons exist why you'll need to see an orthopedist, whether by general practitioner referral or self-election. Orthopedic doctors treat a wide range of conditions, some of which can result from other treatment as either side effects or accompanying symptoms. They are also licensed to prescribe anti-inflammatory medications, injections, acupuncture, or surgery as a last resort.
Signs that you need to see an orthopedic doctor include;
Chronic Pain
Chronic pain lasts for weeks or months, a sure sign you need to see a doctor. Your primary care practitioner can then decide yours is an orthopedic injury, and they'll refer you to a specialist. While the term 'chronic' means pains present for more than 12 weeks, don't wait that long before seeking medical assistance.
Limited Range of Motion
If stiffness and pain keep you from moving freely, an orthopedic surgeon can be of assistance. Limited movement is a sign of orthopedic injury, such as joint disease or arthritis. To avoid worsening of the condition, seek early treatment. Otherwise, you'll require more aggressive physiotherapy.
Long Enduring Soft Tissue Injury
When you've got a soft tissue injury like a twist or a strain, it can be treated with stabilization and rest, healing within a day without significant medical intervention. However, if pain or swelling doesn't improve after 48 hours, see a doctor who will check if there are injuries to bones, muscles, ligaments, or tendons. An orthopedic surgeon will diagnose and treat such conditions to prevent complications.
Difficulty Standing, Walking, or Sitting Down
Orthopedic issues can cause difficulty walking, standing, or sitting, especially when you've been suffering for long periods. An orthopedist will diagnose and treat problems like shakiness or ungainly walks and come up with treatment plans.  Such difficulties will make performing daily tasks challenging, such as getting out of bed, climbing stairs, or rising from chairs.
Complex Fractures and Orthopedic Trauma
Broken bones, especially when you've been in an accident, can be mended with splints or casts, immobilizing and improving the chances of healing. However, other fractures are complex due to their location, such as vertebrae, hip, kneecaps, and wrists. 
Alongside other symptoms of traumatic injury, your doctor will refer you to an orthopedic specialist for further treatment, which could involve surgery. Such attention arrests any severe injuries while preventing irreversible bone, muscle, or joint damage.
Where Can I Find Orthopedic Medical Care With No Insurance?
You should never avoid seeking orthopedic help simply because you have no insurance. Down the line, you may pay even more dearly in terms of money and detriment to your health. You'll still see a doctor or specialist and receive medical treatment, preventative, urgent, acute, and emergency care.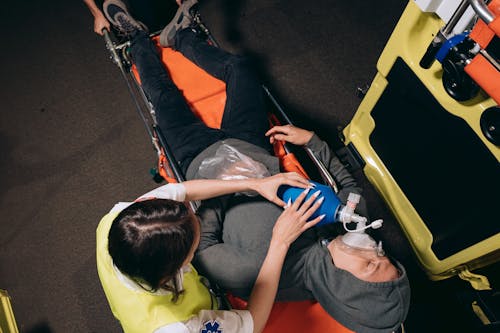 The challenge is finding affordable services, but you can shop around walk-in clinics, community health centers, and direct care providers.
Community Health Clinics
These are available all over the place, but only a few will offer orthopedic services. If you're lucky to find one, you'll get treatment at a lower cost, even without insurance. You may also be allowed to pay your medical bill on a sliding scale based on your income or to take advantage of state health schemes.
Walk-In Clinics
Many orthopedic centers offer a walk-in clinic, and you'll find treatment without insurance. In such clinics, you'll be billed for your visit, but it's wise to ask for the cost upfront. In some, you'll get musculoskeletal care at reduced rates, while in others, you may be able to apply for low-cost health insurance.
Direct Care Providers
Even without health insurance, your orthopedic issues can be looked at for a fee. Direct care provider clinics cater to uninsured patients and are also known as cash-only or concierge centers. Shop around, find one that suits your budget, and discuss how best to pay your medical bill.
Emergency Rooms
any hospital's emergency room will treat immediate or emergency orthopedic situations without insurance. General hospitals don't refuse to offer medical attention for lack of health insurance, but if you can, let the attending staff know you're uninsured. However, this is the most expensive type of out-of-pocket orthopedist care, to be used only in an emergency so that you can avoid recurring bills.
Their billing department can arrange repayment terms or assist you in applying for emergency insurance like Medicaid.
Urgent Care Centers
An urgent care center is available for emergency orthopedic treatment, and they'll take direct payment if you have no insurance. These centers are a cheaper alternative to hospital emergency rooms, provided they'll be able to address your musculoskeletal issues. They act as a walk-in clinic for specialized concerns such as sprains, broken bones, and soft tissue injury or trauma.
Can I Save Money on Orthopedic Care If I Don't Have Insurance?
Seeing as it's a specialty service, orthopedic care isn't cheap, especially if you have no insurance. But there are steps you can take to minimize these costs, including;
Mentioning that you're Uninsured
When you're referred to or walk into an orthopedic clinic, tell the registering or attending nurse that you're uninsured. That way, you may find that there are discounts or federal programs you're eligible for.
Shop for Care That Suits Your Budget
Orthopedic services rates will vary by location, and by shopping around, you'll find low-cost clinics that offer sliding scale payment programs.
Ask For Payment Plan
Some orthopedists are willing to discuss a payment plan that reduces upfront costs, such as managing your bill with overtime or installments.
Double Check Bills
It's common to find errors in your billing, especially when you've been receiving long-term orthopedic care. To ensure that you're being charged the right amount, check, or negotiate payments after receiving bills.
Prescription Savings Cards
Some schemes allow you to get discounts on medical prescriptions, and the same applies to orthopedic care. With such savings cards, you'll pay lower for medication prescribed by your orthopedic doctor.
Drug Samples or Generic Versions
You can save on out-of-pocket orthopedic prescriptions by taking test drug samples or going for generic versions of the proprietary medication.
Medicaid Eligibility
The federal health insurance scheme is based on income, household size, and residential location. While other factors apply, you may be eligible for assistance with your orthopedic medical bills or physiotherapy sessions.
You can contact your local social services department to see whether you qualify for your state's low-cost or free health insurance.
Conclusion
It doesn't cost an arm and a leg when you have no insurance but need an orthopedic doctor. When you're uninsured and depending on your musculoskeletal issue, there are community, walk-in, or urgent care clinics that accept self-pay or offer discounts. You may also qualify for any state or federal programs or visit a direct care provider.  
How much you pay will hinge on where you go for medical attention. Shop around, and don't forget to let them know you are uninsured while enquiring about the costs upfront.  Payment for orthopedic services will involve procedures for overtime billing or self-pay and sliding scale programs.
I'm Cathrine and I'm a 39-year-old mother of 3 from Utica, New York. And I'm extremely happy you've come to visit my hide-out on the web. Here I post about everything related to family-life and usually it will involve babies and lessons I've learned over the years from experts, friends, and my own mistakes. So hopefully you will find what i write fun and informational!