When you insure, you're seeking peace of mind that rides on the guarantee that your property is replaceable. But a misconception that many policy owners have is that the full cost of things is replaced, whether stolen, damaged, or destroyed by natural or human-made calamities. So, what kind of insurance provides replacement value for personal possessions?
Replacement Value is the amount of money it would take to replace damaged, destroyed, or stolen personal possessions. It's usually the default option for property covers like renters or homeowners' policies. The alternative is Actual Cash Value, which pays for an item's value at the time of loss rather than when you bought it.
Your personal possessions depreciate or lose value, and therefore Actual Cash Value repayment is less than Replacement Value. Stuff that appreciates with time, such as art, gems, precious metals, antiques, or firearms, and for these, you may have to buy add-ons or policy extras. Contents insurance won't also cover belongings you've taken out of the home, so read on to learn the type of policy that best suits your needs.
What Is Replacement Value for Personal Possessions Cover?
Replacement value is the cost needed to replace your damaged or destroyed personal possessions like your property and the insured contents within it. The valuation is calculated using the initial price tag of the item or the price incurred when building structures regardless of upgrades or depreciation. An appraiser can evaluate your home or items to arrive at their fundamental value for the actual costs of replacing them.
The process also assumes there are no appreciation costs in the market value of the items covered. Personal possession cover is often termed insurance for items you can carry away from home, including those you wear. Any individual items that cost over $1000 can be covered with a high-risk specific add-on to the policy.
Items that aren't included in the personal possession will be termed as exclusions. These differ according to providers, but notable circumstances include;
Bicycles not tied to or locked in an immovable structure cannot be covered for theft. Expensive bikes will require that you've used a sold-secure approved lock.
Sporting equipment if it's not covered for out-of-the-home use when it is damaged during such application
Items used for business purposes and are held at your home
Replacement value covers the costs of an insured item even when its price has increased. If your policy uses this procedure for personal possessions, you should get paid to replace that belonging at an increased cost. Therefore, you must review your policy so that you're aware of coverage limitations or any deductibles.
Insurance Policies That Cover Personal Possessions and Reimburse Using Replacement Value
Before selecting the coverage that's best suited for your belongings or personal possessions, it's best to review your property insurance policy. That helps to determine whether loss repayment is in terms of Replacement Value or Actual Cash Value. Otherwise, you may find your property underinsured when you're reimbursed less than you expected.
As a method of valuation for insurance purposes, replacement value doesn't feature depreciation cost deductions. You don't need to dip into your pockets or other assets when replacing your personal possessions. One downside of this type of policy is the higher premiums you pay. That's where your provider quotes actual cash value repayment. That's because more money is needed by your insurer in case you make a claim.
So, what kind of insurance provides replacement value for personal possessions? They include;
Personal Property Insurance
The one policy that takes care of your household possessions is personal property insurance. If contents within your home are destroyed, stolen, or damaged, replacement value is used as the means for reimbursement.  That's despite whether you own or rent the house, and covered items include but are not limited to;
Clothing
Furniture
Home appliances
Electronics
Sporting goods and toys
Artwork
Wine and spirits
Unless you've chosen to buy extra protection, the cost of personal property is covered if your home is burgled, involved in a fire or flood. It's usually part of your homeowners' or renter's insurance, depending on the amount of coverage you've bought.
A scheduled personal property endorsement, also called an article floater, can cover items that exceed the value of your personal property insurance. That applies as well if you have valuable items not covered by your homeowner's policy.
Homeowners Insurance
Homeowners' insurance covers damages or other losses to your house or the contents within. Liability coverage is also included for your personal possessions in case of accidents on the property. This cover is an essential part of the mortgage process acquired from the lending bank or a separate provider. 
If you prefer to get a separate policy, you'll compare multiple offers to ensure that replacement value is the reimbursement procedure. Items covered by homeowners' insurance include;
The physical structures in your property: That means your house and any other structure like sheds, garages, or other outbuildings. These properties are repaired or replaced when damaged or have been deemed lost.
Personal possessions: The contents of your house, such as clothing, appliances, or furniture, are covered against damage or loss. With replacement value, you'll be reimbursed the items cost unless these can be repaired.
Personal Liability: If someone is injured or their property is damaged accidentally within your premises, their claims against you are covered by liability. Regardless of fault, your homeowner's insurance provider pays medical expenses or replaces items using replacement value to the limits of your policy.
Additional living expenses: When there's been damage or loss of property or possessions, you'll need to live elsewhere while replacement or repairs are being carried out. You'll pay a deductible when claiming additional living expenses so that you can return to normal life as soon as possible.
Home Warranty Insurance
You can protect personal possessions in your household through a home warranty, providing discounted replacement or repairs for appliances or systems. Since these break down over time, an annual service contract will cover the parts and components of major appliances.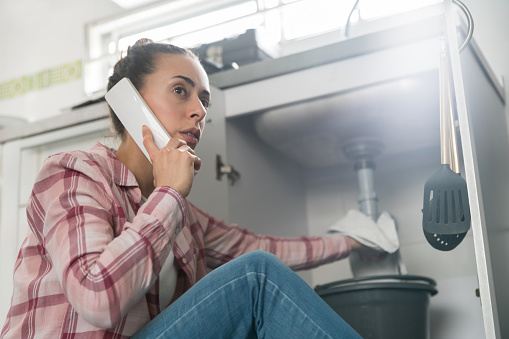 A typical home warranty covers electrical appliances like dishwashers, refrigerators, washing machines, and built-in microwaves. Systems such as air conditioning, heating, and plumbing are also covered. Besides the appliance or system's manufacturer's warranties, these items can be repaired or replaced in case of breakdown or damage using replacement value.
Renters Insurance
You can cover personal possessions in your home with renters' insurance, for which repayment value will apply during replacement. As a tenant, your landlord's homeowner's policy doesn't cover your property. You're reimbursed in the event of a burglary, damage, or other destruction. That's also if these items are lost while away from the house.
The type of policy doesn't cover the landlord's property that you use as a renter, such as furniture or appliances. But most policies include liability coverage for your guest's possessions or medical costs if injured by your pet. Even when you're not at fault, defending against such lawsuit claims in court costs money.
Coop Or Condo Insurance
The condominium unit owner buys condo insurance to provide personal liability coverage and cover living expenses if the property becomes uninhabitable. A co-op or condo association's master policy covers common areas and helps pay for the repair in case of damage through perils or vandalism.
These types of covers are more complicated than homeowners' or renters' insurance. But your personal possessions are replaced after accidents using actual cash or replacement value procedures. Also called HO-6 policies, perils covered include;
Lightning or fire damage
Storm, wind, hail, and the weight of snow or ice
Civil commotion or riots
Vehicle, aircraft, or falling object damage
Explosions, smoke, or volcanoes
Theft or malicious vandalism
Condo or coop insurance coverage includes accidental overflow or discharge of water from plumbing, automatic fire protective sprinklers, and steam from heating or air conditioning systems. These policies also have liability in case someone has an accident while within your unit, as well as provisions for additional living expenses.
Condo or coop insurance rates are highest in places where the weather is a destructive factor, prone to storms, floods, forest fires, or hurricanes. That includes states like Florida or California, while the opposite is true for low-risk areas like Vermont, Wisconsin, or Iowa.  
Contents Insurance
Insurance that pays for the loss or damage of your personal possessions while they're inside your home is called contents insurance. Some policies provide restricted cover for any item you've taken away from the house, such as phones, laptop computers, or clothing and accessories.
Items covered are those that can be carried with you when you leave the property, and these are replaced in the event of peril, damage, or theft. These include;
Furniture like couches, beds, dining tables, cabinets, or wardrobes
Electronics such as TVs, game consoles, computers, and Hi-Fi systems
Kitchenware like pans, pots, cutlery, portable microwaves, and electric kettles
Soft furnishings like bedding, cushions, and curtains
Antiques, artwork, toys, and ornaments
Clothes, jewelry, and other accessories
Conclusion
Your insurance provider that covers personal possessions will use replacement value instead of actual cash value to reimburse you for the price you paid for an item. Some policies for homeowners, renters, or condominium associations include such cover as an incentive. That's essential to get you back to your previous position after damage, destruction by peril, or theft of your belongings.
I'm Cathrine and I'm a 39-year-old mother of 3 from Utica, New York. And I'm extremely happy you've come to visit my hide-out on the web. Here I post about everything related to family-life and usually it will involve babies and lessons I've learned over the years from experts, friends, and my own mistakes. So hopefully you will find what i write fun and informational!