Before taking your new or used ride home, the dealer has to ascertain proof of financial responsibility. If you already had a policy on a previous vehicle, you can transfer its coverage to the recent purchase and update it within 14 days. It's often then you'll hear people wonder, 'can I drive a car I just bought without insurance?'
Technically, you can't drive a car you've just bought without insurance. That's unless the dealer insures your new or used vehicles, and you can take advantage of the 14-day grace period if you're buying from a private seller. The bottom line is that you must be insured to drive anywhere, even for the trip home from the dealership.
Despite having just bought a car, you're not exempt from the law. Being caught driving without insurance will result in criminal charges. It could also cost you financially, as having an accident while uninsured is a legal nightmare. Read further to see what repercussions you'll be risking and how you can circumnavigate this issue.
Can I Take My Car Home from the Dealership without Proof of Insurance?
To take a vehicle out and drive it on the roads, you need motor insurance coverage, period. That's the law in all the states, and you land a hefty ticket the moment you're pulled over. Driving while uninsured may lead to the suspension of your driver's license, your car getting impounded, or your registration revoked.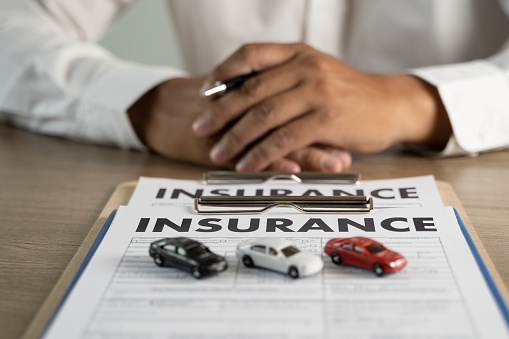 In some countries, like the UK, not only should the automobile be insured but you as well, and penalties include an unlimited fine and disqualification from driving. A dealer may allow you to acquire a car without insurance, but not if they're offering to finance for the deal. The dealership's coverage covers test drives before buying, and you can transfer your previous vehicle's policy to your new buy.
However, a dealer will need proof of financial responsibility for liability in case of an accident after they've released the car to you for the home trip. That's the case if you live in the state of New Hampshire or in Virginia, where you can pay a $500 Uninsured Motor Vehicle fee, allowing you to forgo an insurance policy.
With changeovers, you'll need to look out, so there are no coverage lapses. Also known as insurance gaps, these happen when your old vehicle's policy, or the sellers, expires before a new one kicks in. That's why it's essential to check with your provider for exact timelines, as existing policies lapse in 14 days.
What Options Exist for Insurance Coverage When I Pick Up My New Car?
If you have newly acquired a car, you can't simply drive off for long periods without buying or adding it to your existing policy. The dealer's commercial coverage will also only extend for a short period after you've purchased the vehicle, enough maybe to take it home. These durations depend on the state where you live and the company that provides your insurance.
In many places, you'll have four days of automatic coverage once you've picked up your new car. Some lenient companies offer at least 14 days but not more than a month before they can add your vehicle to the policy. Otherwise, coverage drops off.
Once the dealer signs over the car and you get behind the wheel, you'll be technically considered uninsured. The dealership can direct you to an agent who will sell you immediate coverage after you've made a deposit. But you'll be forced to buy from the dealer's insurance company, which may not work out as the most affordable policy.
At the bare minimum, you can opt for collision and liability coverage instead of buying full cover. Different requirements apply when you buy from a used car dealership or a new vehicle off the showroom.  For your sparkly unused car, especially a financed one, your dealer will need proof of coverage before you can drive it off.
How Soon After Buying a Car Will You Need Insurance?
When you have an existing policy, you're in the best position to drive a car you just bought. Regardless of where you purchase the vehicle, you'll be able to call your coverage provider and get covered. To get started, you'll have to provide your agent with your new card's details, including the registration, plate, or VIN. In the meantime, you'll enjoy a grace period within which you can drive the car with your existing insurance.
However, as I mentioned earlier, the grace period depends on the state you live in, seeing as each has its own set of guidelines. For instance, in California, you'll have a month to obtain proof of coverage after buying a car if you've not had a policy before. If you're adding a new vehicle to an existing policy, you have 45 days in which to do that.
If you leave your car uninsured after these grace periods, it can affect your insurance rates even when you're not driving it. Continuous coverage is a significant factor that providers consider when categorizing you as a high or low-risk policyholder. Failure to continue paying your cancellation premiums without transferring the vehicle causes lapsed coverage, which increases your rates by up to 30%.
What Should I Do If I Just Bought a Car and Have No Insurance?
Once you've signed the paperwork for your new car, it's all yours. There's nothing you can't do with it except drive it out on the road without insurance. Having coverage protects you from any incident that could happen on your drive from the dealership and in the days to follow.
It's therefore fortunate that most insurance providers have policies specifically designed for new car owners. These include;
Driveaway Insurance
Before you've had a chance to renew your policy or add your new car to existing motor insurance, drive-away coverage is one of the best options. It's an ideal set-up for being temporarily insured, especially if you're waiting for your annual policy to begin.
Short Term Coverage
You can get coverage for the car you just bought for hourly, daily, or up to 28-day terms. That enables you to drive your vehicle from the seller's location or to stay on the road until you've arranged for your permanent policy. It's also quick to set up this type of insurance, requiring only a few minutes and basic information about the automobile and you as the driver.
There's no waiting period as coverage starts immediately, with policy documents emailed instantly. It's a standalone policy that won't affect any existing policies or leverage on your No-Claims Discount. You'll get comprehensive coverage within a range of comparable prices, plus the flexibility that suits your situation.
New Car Replacement Coverage
You can replace your insured vehicle with a similar make or model using new car replacement coverage. While this attachment to your policy comes with increased premiums, it offers you protection against the declining value of your new car. That's true if you've financed the loan with a bank, which will be worth more than your vehicle's actual value for the first few years.
Guaranteed Asset Protection or GAP Coverage
If you have financed or leased another vehicle, GAP coverage pays the balance left over if you accidentally totaled it before it's paid off. Without it, you'd owe the bank after your insurer pays off the actual cash value of the vehicle, meaning its cost at the time of the crash.
Should I Buy Insurance before Getting My New Car
It's recommended that you buy motor vehicle insurance before getting your new car, but you also have enough time to do so, even at the dealership. You can acquire a temporary or changeover policy while shopping for ideal coverage with the options I've listed above.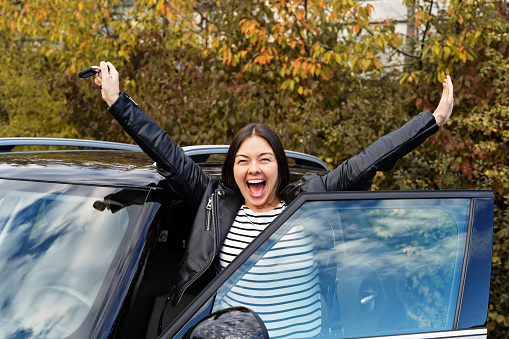 Your insurance provider or agent doesn't need your new card details to get started. They can use all other information about you or previous policies to have coverage ready when you're prepared to drive. Brokers can also set up car insurance quickly, unlike a health, disability, or life policy, meaning there's usually no waiting period.
The car dealer or new vehicle showroom where you've just bought the car is authorized to process DMV paperwork in your state. Once they've got enough information from you, they'll complete the car's registration which you can use to apply for an insurance policy.
Some of the time, the motor vehicle department will want proof of insurance to issue new tags. That means you'll need coverage before the dealer can give you the keys to drive your new car home.  In many states, the minimum auto insurance requirements include cover for;
Bodily or personal injury
Vehicle damage liability
Liability to property damage
Personal injury protection
If you pay coverage for the car you've just bought, state minimum coverage will be sufficient. But that's not to mean you're fully protected, and it's best to consider buying beyond limits for the safeguarding of your assets. Consider how much insurance cover you'll afford, factoring in future income, premiums, and add-ons.
Conclusion
Can I drive a car I just bought without insurance? The answer, as you've seen, is a resounding no, but there are buts. If you had another vehicle, your existing policy is transferable, and there are grace periods within which you can drive using the previous owner's cover. Avoid getting caught without coverage, which will have severe consequences on your driver's record and finances.
I'm Cathrine and I'm a 39-year-old mother of 3 from Utica, New York. And I'm extremely happy you've come to visit my hide-out on the web. Here I post about everything related to family-life and usually it will involve babies and lessons I've learned over the years from experts, friends, and my own mistakes. So hopefully you will find what i write fun and informational!