You can be tempted to do business with a firm for the simple fact that their prices or services are great.  But there are essentials to consider, one being whether that entity has coverage. So, how do you go about how to find out if a business has insurance?
Until you've raised a claim against them, there isn't a definitive way to find out if a business has insurance, apart from contacting and asking them.
Depending on the nature of product or service delivery, it's important to stipulate that a firm sends a copy of its certificate of insurance through its provider. These can include general liability or workers' compensation, exempting you from liability should an accident happen while you're dealing with them.
Certificates of insurance should be sent by the business's coverage provider's agent and not the firm itself. That's so you can ascertain their authenticity, the policy covered, and whether terms, including payment of premiums, have been met. Familiarize yourself with the types of cover you can expect a business to hold and how to request and verify their certificates.
What's the Use of a Business's Insurance Cover?
For you as a Customer
Insurance policies protect a business's interests, employees, and customers. Not only do these entities make it safe for you to work with, but they gain a competitive edge in the bidding scenario against the uninsured competition. If something goes wrong within their scope of operations, such as when a contractor is working on your site, the business and not you, its customer can be held liable.
The rules and regulations governing business insurance are different in various states. Suppliers and contractors must have tradesman liability coverage and entities with employees to cover them with workers' compensation. The essentiality of being insured for businesses that offer professional services or advice cannot be underestimated.
If you're paying a business for their professional know-how, I advise you to ask whether they have indemnity insurance. Should these services or directions lead to damage or loss of earnings, such coverage ensures you'll be compensated. Insurance also covers theft or loss of documents, financial or personal information. That's a vital consideration when trusting your data to a company using or delivering information technology.
For a Business you're trading with
The world is an unpredictable place, but business insurance isn't.  Depending on the sector, policies will differ considerably, and you, as the customer must ensure the entity has the right coverage. For instance, a policy for a construction company will be different from that of a restaurant, seeing as different types of risks are covered. However, others like workers' compensation or general liabilities suit all companies.
There are penalties for not being insured, and a business can face hefty fines, which may potentially destroy it financially. An entity is also protected in the event of customer disputes, which can take time, be costly or ruin its reputation. Any product or service that requires re-doing or recalling will be covered by the policy, putting the firm in a better position to pay damages claims or resolve issues.
Bad jobs can damage a business, but liability insurance cushions the proprietors to allow for continuity of service or product delivery. If a third party injured themselves on company property or job site, the medical or repair costs are manageable with coverage. Contractors can also cover other costs like paying employees when margins are thin, resolving fund payouts that would otherwise bankrupt the company.
How to Find Out if a Business Has Insurance
Verifying a business's insurance coverage involves contacting the policy provider to ascertain that a company is covered. It's essential to complete this process before dealing with an entity for your protection and compensation should you or their worker make a claim. Failure to do this, you can find yourself paying medical expenses or other damage claims out of pocket and your firm's reputation in tatters.
Typically, you'll request a certificate of insurance or COI from the coverage provider or their agent cum broker. You won't approach the target business, although you can ask if they're insured as a preamble to the verification process. The firm's name should be exact as that on the certification, while the policy cover dates must show that it's current and effective.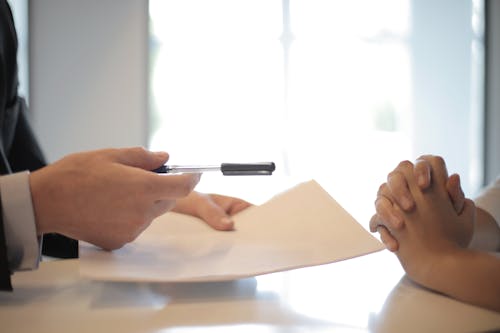 If a business's policy is set to expire before the contracted period, ask them to secure a new certificate of insurance. On top of that, you can request a Declaration Page for whichever insurance policy you need to verify. That's a page containing the company's information, their insurance providers and agent, applicable policy limits, deductibles, and when the coverage begins or expires.
What Are the Types of Insurance Coverage a Business Can Have
Business insurance coverage is required by law, and you can find entities covered for multiple operational risks. As a rule, firms, contractors, and suppliers insure against occurrences for which they'll be unable to pay on their own. It's essential to understand the type of policy a firm you're planning to interact with has and whether it's the right one or if it applies to you.
Since requirements differ according to the industry a company is involved in, the six common types of business insurance include;
General Liability Insurance
This coverage protects against financial loss resulting from property damage, bodily injury, medical expenses, slander, and libel, settling judgments, bonds, or defending lawsuits. General liability is essential for any type of business.
Product Liability Insurance
Coverage for product liability suits businesses that manufacture, distribute, wholesale or retail products. It protects against financial loss resulting from defective products which cause bodily harm or injury.
Professional Liability Insurance
If a business has professional liability insurance, it stands to lose money through errors, negligence, or malpractice. The coverage suits firms that provide advice or consultancy services to their clients.
Commercial Property Insurance
A business is protected against loss and damage of its property from events such as fire, wind, hailstorms, or smoke. The entity also stands to be compensated for vandalism resulting from riots or civil unrest, and the policy fits an entity with significant physical property or assets.
Home-Based Business Insurance
Small businesses or freelancers are protected from third-party liability or equipment damage. The policy is essential for firms that run operations from the proprietor's home.
Business Owner's Policy
An insurance package that combines various typical corporate covers into one is called a business owners policy. Its coverage simplifies the insurance buying process and is essential for most entities, including home-based operations.
Contract Works Insurance
While only applicable in some states, contract works protect you should a contractor job be damaged before it's finished. That's especially true if the work couldn't be covered by your existing insurance, such as storm damage on a half-built structure. The policy, or its rider, provides coverage for jobs in progress, even if it's a repair or redoing due to insured scenario occurrences.
Building Warranties and Guarantees
You should check if a contractor has building guarantees or warranties if they go bust and file for bankruptcy. An insurance-backed warranty will cover any faults in work, and many builders offer them as part of their job labor costs. See what's covered in these riders, as well as how long they're valid for.
What to Expect on a Business's Certificate of Insurance
A properly completed certificate of insurance provides you with a basic overview that determines whether a business has coverage or not. These documents contain separate sections for the various types of liability cover, including general, umbrella, and auto or workers compensation. The insured is the policyholder or company that appears on the title of the COI.
Additionally to the covered business's name, there should be its addresses and a description of what the business does that requires insurance. The agent, contact person, and the issuing company's address are also listed, and when several providers are involved, all contacts are listed.
When you request a business's certificate of insurance, you become a certificate holder. Your name, as well as contact information, appear on the bottom left-hand corner of the document. There are also statements to show that the provider is obligated to notify you should that business cancel its policy.
A certificate of insurance also describes the limitations of the coverage for each of the businesses policies. For instance, a general liability COI summarizes around six limits for the policy by category. It also indicates whether that entity's coverage applies based on per occurrence or claim. There are no limits for workers' compensation coverage since state laws determine an injured employee's compensation or benefits.
Conclusion
You can request a certificate of insurance, whether general liability or workers compensation, as a step on how to find out if a business has insurance. That's essential for protecting yourself while you're contracting the services or using that company's products. The COI should come from the coverage provider and indicate the entity's name and its manner of operations.
I'm Cathrine and I'm a 39-year-old mother of 3 from Utica, New York. And I'm extremely happy you've come to visit my hide-out on the web. Here I post about everything related to family-life and usually it will involve babies and lessons I've learned over the years from experts, friends, and my own mistakes. So hopefully you will find what i write fun and informational!