In life, there are dates of remembrance to commemorate happy experiences or memories. While many acts remind the joyous occasion, others preserve important milestones, renewing that step in your heart. So, to celebrate your marriage, you'll have a happy wedding anniversary each year, but what is the correct anniversary?
A wedding anniversary celebrates the day of your wedding, and it can be different from a marriage anniversary. There are traditional labels for some anniversaries, depending on the year you're celebrating it. These include aluminum after ten years, silver on the 25th, and gold on the 50th year of marital union.
Anniversaries are about celebrating milestones while signifying the lapse of time together. You can reflect on the past growth while looking forward to the future with positive expectations. Read on to learn the correct anniversary so you can reconnect as a couple as you remember your vows.
What Is a Happy Wedding Anniversary, and Why Celebrate It?
The day when your wedding took place was a significant event, one that you should constantly commemorate. While marriage in itself is a milestone, anniversaries have been recorded since the 1500s in Germanic cultures. However, due primarily to today's commercialism, each year of your matrimony has a specific representation and a gift to match. The Jewelers of America introduced the expanded list of gifting in 1937. These include annually until your 25th and for every five years after that.
Depending on how long you've been together, a wedding anniversary will have a different meaning from the last one. Many of these remembrance days derive their symbolism from natural elements, precious metals, or stones. It's essential to tell anniversaries apart, whether it's yours or you're looking to buy a gift for a married couple.
What Is the Correct Anniversary Symbol for a Fitting Gift to Your Spouse?
From the first year after your wedding, your marriage is gilded with opportunities for remembrance celebrations. There are also traditional gifts and their modern alternatives, with differences between various cultures. In the US, for instance, silk replaces linen for your 12th anniversary, while pottery is replaced in China for your 20th.
So, when you say or are told a happy wedding anniversary, the correct anniversary is according to the years you've been together. These and their corresponding symbol or gifts are;
Lightweight, Fragile Paper for the 1st Wedding Anniversary
After the wedding, newlyweds are pretty broke after footing all the costs. The traditional first-year symbol and the gift for its anniversary is paper. Just like a blank page waiting to get written on, this relatively fragile element signifies the newness and fragility of your marriage. If you're looking for fitting first year's gifts, give printed cards or tickets for some romantic break getaway.
Cotton's Multiple Threads Signify the 2nd Wedding Anniversary.
By the end of the second year of your marriage, you and your spouse's lives have become intertwined. The symbol for this anniversary is cotton, a fabric made from multiple woven threads. Cozy gifts for this occasion include coordinating robes, personalized pillowcases, or a comforter that couples can snuggle in together.
There are also beautiful cotton-made flowers that your spouse will love, a perfect gift that will last for ages. Today, the alternative to the traditional fabric is China, which creates myriad varieties of tableware and kitchenware.
Durable Leather Symbolizes a 3rd Wedding Anniversary.
Your marriage has progressed by the end of its third year, leaving you or your spouse feeling protected and secure. Leather is a durable material, traditionally used as protective wear. The natural element also creates perfect gifts for this anniversary, such as a classic handbag, wallet, purse, or smartphone case.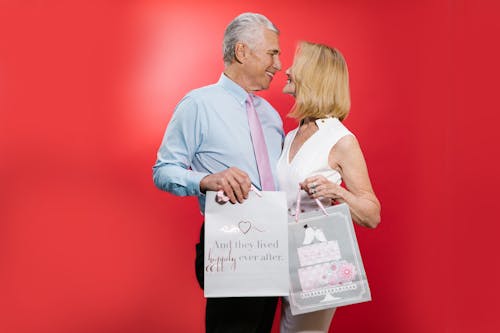 Leather gifts are also easy to personalize with monograms, and they can include a hip flask, belt, or hat for your husband. You'll find a variety of gifts that incorporate paper, cotton, and leather to signify the years your marriage has so far prevailed.
Wisdom and Strength Symbolized by Wood for the 5th Wedding Anniversary.
By your 5th wedding anniversary, your marriage has deep roots and is robust like a tree. That's why wood has been used as the symbol for five years, a natural element from which wonderful gifts are fashioned. You can find wooden signs or carvings that represent the journey you've taken together. A personalized oak wine box or photo frame offers that sentimental touch that gives your matrimony pictures a new lease of life.
Preservation in Tin or Aluminum for a 10th Wedding Anniversary
Tin and aluminum are materials used widely for preserving things, and that's why they're used to mark the 10th wedding anniversary. These metals are used as alloys or plating to prevent corrosion, prolonging the life of that product. A decade of marriage is marked with such gifts, with various mementos like gardening tools as fitting symbols.
The Clarity of Crystal Stands For the 15th Wedding Anniversary
A luxurious element known for its transparency and clarity, Crystal represents 15 years of life together. By then, couples can see each other clearly, and this product has perfect jewelry or keepsakes for the anniversary. From necklaces, earrings to watches, you'll find excellent crystalline reminders of a marriage that's survived the test of time.
Porcelain or China For a 20th Wedding Anniversary
Two decades of marriage mean that you've taken care of your relationship, just as you would delicate China. Porcelain also takes time to mold, going through a heating process that makes it solid and beautiful.  The modern 20th-anniversary gift alternative is platinum for couples with expensive tastes and capabilities.
Conclusion
Every year from the 1st up to the 10th are considered major milestone landmarks. After that, you can celebrate your wedding anniversary every five or ten years with precious gems corresponding to the number of years together.
After the 20th happy wedding anniversary comes silver for the 25th, pearl for the 30th, and coral for the 35th. At the end of four decades, you'll receive red rubies, and at 45, it's beautiful blue sapphires. You won't have to ask 'what is the correct anniversary?' after 50 years of marriage as everyone knows you're on your golden jubilee. Emeralds, diamond, and platinum represent your 60th, 65th, and 70th year as a couple.
I'm Cathrine and I'm a 39-year-old mother of 3 from Utica, New York. And I'm extremely happy you've come to visit my hide-out on the web. Here I post about everything related to family-life and usually it will involve babies and lessons I've learned over the years from experts, friends, and my own mistakes. So hopefully you will find what i write fun and informational!