Baby skin is soft and smells heavenly. But not all the time, as you've found it can get flaky, dry, and sensitive, even developing discoloration, particularly during the early days. Seeing as you're a safety-first mum, you're wondering 'When can I start using baby products on my newborn?'
It's recommended that you don't use any baby products on a newborn until the fourth to sixth week after birth. Bath your tiny tot in warm water only, or give what's known as 'top tailing' sponge baths if their umbilical cord stump hasn't fallen.
Unless you're dealing with any of several skin conditions or rashes common with newborns, lesser is better for any product used on your child. When you're undecided about the safest course of action regarding baby products, always have a chat with your pediatrician or a skin care specialist. Here are a few tips to help you provide the best care for your baby.
Should I Use Any Skincare Products on My Newborn Baby?
The top priority for any new mum is caring for your newborn, and naturally, you'll have questions about baby products. Your baby's skin is sensitive, vulnerable to dryness, irritation and quickly absorbs harmful chemicals which their young bodies can barely regulate.
But your newborn doesn't require that much bathing, as once or twice a week will be enough. You'll be doing your best to keep their bottoms clean after a diaper change, with face, hands, and neck wiped after meals. Baths should be kept to less than ten minutes so that your baby's skin isn't robbed of natural moisture by soaps and shampoos.
When you start bathing your baby, it'll be necessary to use a moisturizer, lotion, or cream that replenishes their natural skin oils. You may also have to shampoo dirty hair while treating diaper or heat rashes.
Use Gentle Baby Bath Products
Your baby's bath time can be supplemented with gentle soaps and bubble baths. Try products formulated for your tot's age, and which contain no artificial dyes, fragrances, or alcohols. Take a close look at the item's label, and don't be afraid to research the ingredients that aren't familiar.
Chose bath products that are marked tear-free, and which won't irritate your baby's eyes. Use less of everything, other than warm water, as your newborn tot doesn't get as dirty as a toddler. 
Avoid Powdering Your Newborn
Traditionally an inclusion of your baby product list, using talcum or corn starch powder is no longer a great idea. Experts warn that talc causes abrasion and dryness when used to shield your child from nappy rash. If you shake or clap hands during the application, the resultant dust can result in respiratory problems for your tot.
Many of today's variety of diapers come full-fledged with super absorbent, moisture-wicking inner surfaces. If you have to use powder, apply some on your hands, rub them and then pat your baby's bum. Too much application prevents the innovative diaper attributes from working efficiently.
Make Lotion Your Baby's Friend
As soon as you start immersion bathing your baby with soaps and bubble baths, their skin begins to lose natural moisture retention abilities. You'll want to keep your newborns moisturized, and the best way to do this is with lotion after a bath.
Other than that, you'll be doing in-between moisturizing since your baby will be having intermittent full-on baths. Your tot will be losing moisture even when away from water, such as when the air in your house is dry.
Protect Your Newborn from Sun Exposure
It's not recommended to use sunscreen on newborn babies as no brand is tested for babies less than six months old. However, it's sometimes to use a sensitive-skin kid's product that risking your child to sun exposure. It's not healthy to stay cooped up in the house with your baby forever, but try to avoid direct sunshine hitting your tot.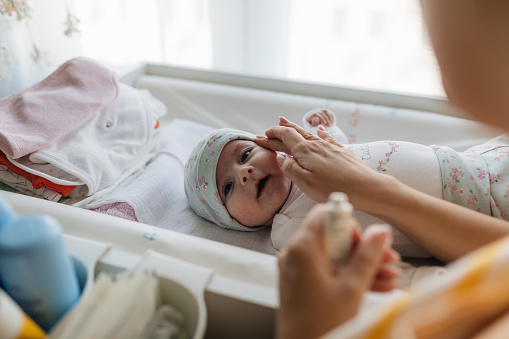 A sunscreen with inorganic filters such as titanium dioxide and zinc oxide won't irritate your baby's skin or eyes.
Stop The Rashes Before They Begin
Before moisturizing or applying a lotion to your newborn, ensure there's no moisture trapped in the folds of skin. These areas are soft and irritable, where wetness makes the skin prone to rashes. As your baby enters the oral phase at three months, they'll be drooling and going to the toilet more.
By cleaning all your baby's nooks and folded crannies twice daily, you'll be preventing peeling, chaffing, and redness. Wipe down your tot, especially after meals to get the food or milk remnants.
You can soothe your child's rashes with Vaseline or Aquaphor. Talk to a pediatrician if the rash becomes bumpy and red it's time to speak to a pediatrician as that could be a yeast infection.
What Baby Products Can I Start Using on My Newborn?
Your baby is born with a natural protective layer called Vernix caseosa, a whitish mucous membrane that prevents moisture loss. The substance contains enzymes like cathelicidin, lysozyme, lactoferrin, and defensins. That is why you should wash your newborn or use any skincare products for the first ten days, and also because of umbilical cord or circumcision wounds.
Since your baby's skin is the largest organ on their body, so seek out natural, organic, and made-for-baby products. These can include;
Baby Wash
For your newborn ages a month or less, use SLS or sulfate-free baby products. These will cleanse gently without robbing your baby's skin of moisture. Seek out scent-or-dye-free bath items, and those with ingredients like Yucca for natural lathering, and pH balance.
Baby Salve
Use a baby balm designed to soothe rashes or sore dry patches on your newborn's skin. You can nourish and restore moisture with products that contain natural plant extract; rich in vitamin E. soothe dryness with skincare containing calming and soothing ingredients like calendula and Shea butter.
Conclusion
The likely cause of dry skin on your newborn is bathing or arid air at home. A small amount of baby moisturizer or lotion will soften and replenish moisture stolen by unfriendly skincare substances.
After a bath, a massage will relax your newborn, especially before bedtime. Use fragrance-free baby oil that's designed for sensitive skin and is 100% organic. Limit your baby's exposure to soap, bubble bath or alcohol, and other chemical ingredients in skincare products.
I'm Cathrine and I'm a 39-year-old mother of 3 from Utica, New York. And I'm extremely happy you've come to visit my hide-out on the web. Here I post about everything related to family-life and usually it will involve babies and lessons I've learned over the years from experts, friends, and my own mistakes. So hopefully you will find what i write fun and informational!