Babywearing has so many positive impacts on your newborn. It strengthens the bond between your child and yourself while supporting your tot's natural posture while reducing infant fussiness. Since I have safety concerns, when can I carry my baby in a carrier?
You can bring a baby carrier as part of your hospital registry, carrying your newborn soon after birth. As long as your child is seven pounds and heavier, wearing your tot helps maintain a close connection. Also, your baby's self-regulating system of heartbeat, respiration, and body heat start to mimic yours.
Instead of tiring yourself further by carrying your little bundle in your arms soon after toiling through the birth, use carriers. As you start to walk around, your worn child makes it easier for you to perform daily chores. In this article, I'll let you know when to carry your baby in a carrier, and how best to keep them comfortable.
Should I Carry My Baby in a Carrier from Birth?
A baby carrier is the only utility that lets you move about and do stuff, hands-free. That's unlike strollers, perambulators, or car seats, plus the state of your child's relaxation is heightened by being against you. If you need to navigate crowded places or stroll off the beaten path, carriers go where others are impractical.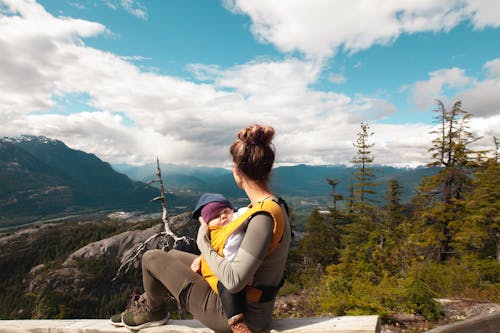 Your baby in a carrier can see, or feel you. That lessens their crying, especially during the newborn and up to six months ages. During this period, a front carry with your child facing you is recommended. That works to secure your baby's posture, keep them closer and protect their hands from exploring.
Later you can switch your tot to face forward when they're old enough to interact with their environment. It's up to you how long you want to continue carrying your baby in a carrier, as there are sizes that support above 18 months and older. 
Besides skin-to-skin contact, it's safer to wear your baby for longer than with other methods. In some instances, especially when you've sized up your baby's carrier, infant inserts come in handy to provide extra support.
What Type of Carriers Can I Start Using with My Baby?
Baby carriers are a lifesaver, and many mums, as well as dads, swear by them. The American Academy of Pediatrics recommends this centuries-old practice, and with excellent reasons. There's also no better way to port your newborn or infant around, especially in the home with relaxing and calming effects.
As your baby's parent, the onus is on you to decide when to begin carrying your tot in a carrier. Your child's age and developmental milestones will be a determining factor, as carriers are designed for ages zero up to two years old.
Types of carriers you'll come across include;
Wraps
These are super long and stretchy pieces of fabric that you tie and configure around your baby and yourself. A wrap mimics the closeness provided by your womb so they're especially preferred by newborns. While it takes a bit of practice to get the hang of wraps, they mostly come in a one-size-fits-all that's easy to adjust for any body type.
Slings
A sling is structured to go over one of your shoulders and across your torso, creating a pouch in which your baby can sit. Slings are easier to use than a wrap. They're particularly essential if the weather is hot as the fabric material is light. You can carry your newborn in this type of carrier, but you may tire out quicker for heavier tots due to weight distribution.
Structured Carriers
A soft structured carrier has straps that let you wear it like a back or frontal backpack. These types of carriers feature a padded pack within which your baby sits either facing back or forward.
You can also carry your tot on your back, much like a regular rucksack. Besides multiple carry options, your baby's posture, and your hips are fully supported. You can also use them through to toddlerhood.
Hybrids
A hybrid carrier combines the best features of wraps and soft structured carriers. Comfortable and easy to wear, hybrids can sometimes prove tricky in finding the right fit for your body or your baby's size.
Mei Tai Carriers
The carrier's design is based on a traditional oriental baby-wearing style that resembles a wrap. A Mei Tai carrier has four defined straps that make putting on and adjusting your baby easier. Sash carriers are classic examples of this centuries-old design.
Can I Adjust or Upsize My Baby's Carrier as They Grow?
A carrier provides your baby with the best chance of interacting with their surroundings more freely. You can carry your child facing in or forward, or prop them on your back like a fun piggy ride. They alleviate pressure on your shoulders and back, and give your tot the best position for lumbar, neck, and hip support.
Choose the best carrier as defined by your baby's age and weight. That vital to give your baby the necessary developmental support, with considerations that include;
Carriers for Your Newborn to Four-Month-Old Infant
Ensure that the carrier you pick for your newborn offers maximum cranial, neck, and back support. It's also crucial to be conscious of your baby's hip, carrying them in an M-shaped position. Carriers designed for newborns offer proper curvature for your tot's back and legs. You can also use one with adjustability for size or employ some padded inserts.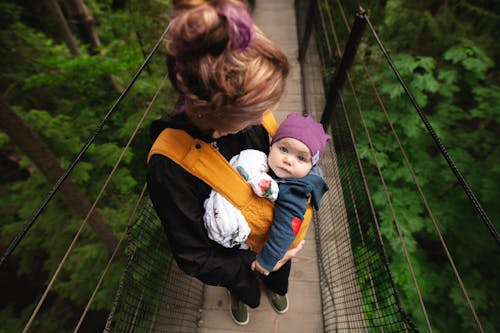 Carrier for Your Four- to Seven-Month-Old Baby
By the time they're turning four months, your baby can hold up their head without your help. You can up-size your infant's newborn carrier to accommodate their growing size. It's also possible to adjust its widening base for comfort. At this stage, you can switch your tot to face outwards to enjoy the sights around them. It's also recommended to try back carrying, especially if your toddler is getting on in weight.
Carriers for Eight to 12-Month-Old Babies
A front-facing or back carrier is best for your baby at this age, seeing as their neck and head muscle control has strengthened. Your older kid enjoys observing their surroundings as well as physical contact on walks or hikes and other adventures with carriers for one-year-olds.
12 Months and Above Baby Carriers
By this age, your baby probably weighs 22 pounds or heavier. A back carry carrier suits you and your tot better, due to the minimum strength required. Your child gets the opportunity to look around, while their hands are kept safely away from hazards they may want to touch.
Conclusion
In reality, a baby carrier from a newborn is better than using other methods of carrying, holding, or calming your child. You can carry your tot in carriers as soon as you're comfortable, or when their neck muscles are strong enough to support the head. It's essential to go with a size-specific model that keeps your child's airways clear while supporting a healthy posture.
I'm Cathrine and I'm a 39-year-old mother of 3 from Utica, New York. And I'm extremely happy you've come to visit my hide-out on the web. Here I post about everything related to family-life and usually it will involve babies and lessons I've learned over the years from experts, friends, and my own mistakes. So hopefully you will find what i write fun and informational!