To achieve a perfectly restful night, you need bedding that conforms to your unique style of sleeping. But there are so many items being bandied out there, and the names you were familiar with have changed. For instance, duvet bedding, what is it, and why is it confused with comforters?
A duvet bedding is a top layer acting as a pocket within which you can customize bedding all-round the year. It's a quilted blanket that's filled with filling like down or its synthetic alternatives, held together with an interchangeable cover. The pillowcase-like structure or shell traps your body heat without the weight of a comforter pressing down on you.
Duvet is essentially a European word, and the American bedding equivalent is the quilted insert that's different from the traditional comforter. In the following article, all you need to know about duvets for a night of comfortable and restful sleep.
What Is a Duvet, and How Is It Different from a Comforter?
When you think of a duvet, an image of the material bedding-sized case comes to mind. But isn't that a comforter, or what's the difference? Either of these beddings can form the top layer of your bed, keeping you warm and cozy at night.
Differences lie in their construction, laundering speeds, weight, and the capacity they offer for personalization. For comforters, the inner padding is fixed to the outer lining. Duvet bedding features a cover and inserts separately.
Inserts or blankets are usually white for obscurity within their covers. These are made of down, wool, feathers, silk, cotton, and other synthetic-fiber materials like polyester and microfiber.
While thinner than the duvet insert, comforters are often quilted or stitched to keep the filling material evenly distributed and secured. As such, laundering one is time-consuming, especially since drying requires lots of continued heat. With duvet bedding, you're able to remove the outer covering, which washes and dries quickly, while you can air dry the blanket.
Advantages of Using Duvet Bedding
In the course of your lifetime, you'll spend 33 years in bed as an average person. It's therefore essential that you invest some thought in your bedding. That's where the choice between a duvet and a comforter arises.
Duvets are often and erroneously called comforters, except their design allows for an interchangeable cover and a thicker insert of down or other materials. These include cotton, silk, polyester, feathers, wool, or microfiber.
There are pros and cons of both items but getting a duvet is the better thing to do if;
Design Trends Mean a Lot to You: The duvet cover is interchangeable, meaning you don't have to change the entire bedding when your tastes or preferences change. It also features a durable, thicker, but more breathable blanket that can last for over ten years.
You Make a Mess in Bed: A duvet beddings removable cover is easy to launder and dries quickly. Eating breakfast in bed and playing with kids or pets that leave stains isn't as scary as having a comforter requires dry cleaning.
You Love Bed Making: A comforter works better if you loathe making your bed on waking up. The duvet bedding is a perfect choice when dealing with how frustrating it can get to keep the insert from traveling around within the casing.
Your Home Area Is Cold: Duvet bedding is warmer than a comforter, and often, the insert is made with goose down. That's a natural insulator that traps your body heat without making you sweaty.
You Don't like Top Sheets or Bed Covers: Your duvet bedding will double as a top sheet, minimizing the number of layers covering you during sleep. You can place a duvet on a pair of fitted sheets, and that'll be sufficient.
Choosing the Right Duvet Bedding
You can create the right sleep environment by learning how to customize your perfect duvet bedding. Factors that determine the weight, softness and heat retention or breathability of your bed include;
The Duvet Filling and Shell Materials
Since you're looking to improve your sleep, comfort is the first thing to look out for. The balance of humidity and any allergic reactions to filler material should be a consideration. Polyester inserts resist dust mites and are easy to clean, while merino wool is excellent at heat retention and helps allergy sufferers.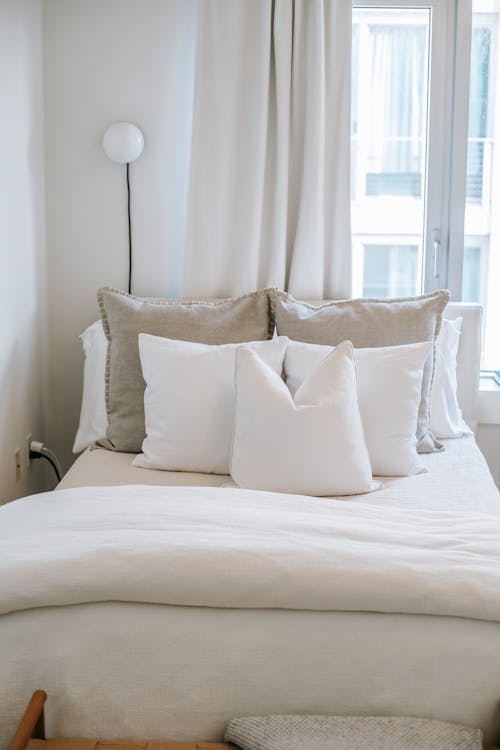 However, natural fillers like cotton, wool, and silk will most likely maintain a breathable fit for your body shape. Insert materials like duck or goose feathers, as well as down, dictates your duvet bedding's weight and its heat retention.
Duvet Bedding's Size
Like sheets and comforters, duvet comes in standard sizes that range from twin through to queen and California king size. If you're in doubt, select a slightly larger duvet than your bed so that the extra room is practical skirting around. More extensive bedding also makes it easier to maneuver, especially if you share your bed.
The Duvet's Cost
With its interchangeable covers and a high-quality blanket, a duvet can last longer than a comforter. That's because you don't have to wash it as often, except for the cover and with natural down or feathers; this bedding lasts decades.
The following factors will assist you in getting value for your money in a duvet bedding set. These include;
Shell or Cover: A high-quality cotton or polyester cover improves breathability and wicks sweat. If the shell material has a good thread count, it'll hold the duvet filling better and longer. 
Filler or Blanket Material: If you select the more durable and anti-allergenic natural materials like down, you're bound to pay more. Synthetic alternatives are cheaper but don't expect equal heat retention or breathability capabilities.
Construction: With a traditional baffle box design, for instance, your duvet bedding can keep its structural integrity longer.
Conclusion
Duvet is derived from the word for down in French as a common insert filling material. You can easily customize bedding with different covers or shells of various colors or patterns that match your bedroom décor. For instance, you can get matching pillowcases to your preferred covering, contrasting the color of your sheets or pieces of furniture.
The bedding becomes more expensive than a comforter if the blanket is filled with natural down, silk, wool, or feathers. You'll also purchase a variety of duvet covers or shells to interchange décor. If you're not buying for the long term, it's best to go with something else like a comforter.
I'm Cathrine and I'm a 39-year-old mother of 3 from Utica, New York. And I'm extremely happy you've come to visit my hide-out on the web. Here I post about everything related to family-life and usually it will involve babies and lessons I've learned over the years from experts, friends, and my own mistakes. So hopefully you will find what i write fun and informational!