Once you've had your baby through cesarean delivery, it's normal to feel pain, experience bleeding, and soreness. You've just had major surgery, and you must give your body time to heal. But since there's recommended activity while other's discouraged, when can I start walking after C-section?
Walk within the first 24 hours of your C-section procedure. It'll be uncomfortable at first, but it's the best way to lower the risk of postpartum post-operation complications. Taking a walk acts to jump-start your normal bodily functions like bowel movements while eliminating blood clots.
Your surgery has had a significant impact on your physical and mental health. There are risks related to this procedure, despite C-sections being lifesavers for mums and their tots. I've explained what you should expect and how to take care of yourself with exercises like walking to recover from the delivery operation.
Why Must I Take It Easy After a C-section than With a Vaginal Birth?
You may have read guides that advise starting to exercise as soon as four weeks after your C-section procedure. However, each person has a different physiology, and the delivery operation also isn't always similar. Research has suggested that you wait longer before engaging in any workout that could sabotage your postpartum recovery.
Engagement in strenuous activities too soon after a C-section has left 60% of women with incision pain 24 weeks after surgery. Before the operation, you'll probably have received a spinal or epidural anesthetic block which numbs your body but allows you to stay awake. It can take several hours before you regain feeling. Walking to the bathroom will be assisted.
If yours was an emergency, general anesthesia is required. That means you'll take some time to wake up. You'll feel disoriented, dizzy, confused, nauseous, and anxious coming out from under anesthetics. The first concern will be your baby's wellbeing when you wake up.
Nowadays, with a gentle cesarean delivery, they let your tot rest on your chest or in the arms of your birthing partner. Usually, the routine involved taking your child away as the surgeon sewed the incision on your belly.
Post-operation, you'll have a catheter inserted to help with urination. As such, you'll spend between two and four days in the hospital under the careful monitoring of doctors and nurses. Any walking attempts will feel sore within the first 24 hours, and you can expect to be dealing with;
Vaginal discharge
Surgery afterpains
Soreness and swelling of severed abdominal muscles
Breast swelling
Postpartum depression
When Can I Safely Walk Again After a C-section Delivery?
Getting on the move is essential to activate your core strength and get your body functioning normally again if you feel up to it. However, there's no pressure for rigorous exercises yet, as physical and psychological recovery can be unpredictable. If you doubt your recovery rate after the birth, talk to your midwife, doctor, maternal health nurse, or pelvic floor physiologist.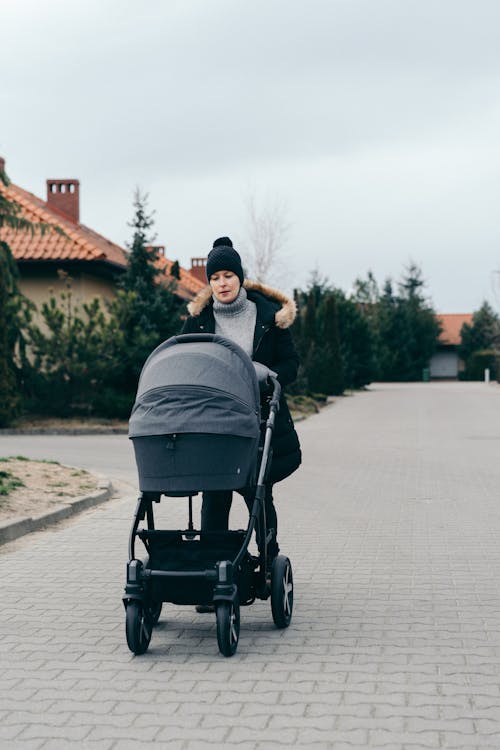 Between 24 hours to about three days or so, you should feel ready to start walking as part of your daily routine. You can also take walks as exercise but initially aim for about five to ten minutes to see how your body responds. Set small and achievable goals like heading for the local park with your bun in a pram, enjoying the outdoor experience.
Walking is the ideal exercise after a C-section. Taking a walk is a low-impact workout that you can regulate by intensity or length of time. It's also easy to get started, with no special equipment, and you'll include your baby as it grows. You can build momentum as your body responds, picking up the pace or aiming for a hill or two.
What Are the Benefits of Walking as Soon As 24 Hours after a C-section?
To walk soon after your C-section surgery has several benefits. These include preventing deep vein thrombophlebitis.  As you get up and walk, blood circulation improves and eliminates any clots forming in the veins of your legs, leading to serious post-op complications.
For a more comfortable and relaxed rest after your surgery, walking helps relieve gas that can accumulate in your abdomen. Your body's functionalities, such as bladder and bowel movements, may have been halted by your parasympathetic system as it tends to your injuries. Taking a walk facilitates toilet going, which when strained can pressure incision sutures.
You'll prevent other complications of your major abdominal surgery, such as pneumonia by walking. You'll be encouraged to walk from the time you're in the hospital, at first with help and then alone, as you regain your confidence. Without overdoing it, your walks can increase to 20 minutes for the first week post-op, and you can resume your earlier schedule by week two.
Why Should I Force Myself to Walk If I Don't Feel Like It after C-section?
Having a major abdominal surgery for C-section delivery is something altogether traumatic for your body. While you can be out and about the very next day, you may not feel like it, and the healing process can sometimes drag on without an end in sight. If you've had a breach emergency, you may be bedridden for close to two weeks. You'll find it challenging to move from lying down to sitting, leave alone walk.
However, once you're no longer in lots of pain, you should get out as much as you can. Take leisurely walks for not more than three miles each day until your incision is fully healed. Afterward, you can build on your stride or take on hills without overdoing it. Walking will get easier each day.
Walking will help to increase your core energy, improving your physical and mental wellbeing. Your thoughts will no longer be cluttered after a walk. Besides the health of your heart, it increases your metabolic rate, helping burn body fat and ultimately to lose weight.
Your bones and joints, having been bombarded with hormones throughout pregnancy, finally get much-needed respite. You'll regain coordination and balance as muscles strengthen while improving lung function.
Conclusion
Even as you start walking after C-section, remember to take it easy. You don't have to be independent or look after yourself since you now consider your newborn baby. Feed your body and your little munchkin well, and use this recovery time to bond. When it's time to get out for a walk, take your snuggle bunny along, restfully taking strolls that result in a happier mum and tot.
I'm Cathrine and I'm a 39-year-old mother of 3 from Utica, New York. And I'm extremely happy you've come to visit my hide-out on the web. Here I post about everything related to family-life and usually it will involve babies and lessons I've learned over the years from experts, friends, and my own mistakes. So hopefully you will find what i write fun and informational!