If you've been through a C-section, you can agree that one of the many worries women have is about the right cloth they'll wear during C-section. What to wear during a C-section can be confusing, especially if you've never gone through this process before.
The good news is that every pregnant woman has different preferences and needs for clothing for their C-Section experience. So, the clothes to wear during the surgery depend on what makes you feel the most comfortable and relaxed! You can wear anything from an oversized t-shirt and sweatpants combo to yoga pants or even just comfy pajamas.
We will be discussing what to wear during C-Section surgery so that you can feel as comfortable and relaxed as possible.
Wear a Comfortable Outfit that you can Easily Remove
We all know how frustrating it can be to have a zipper stuck or buttons missing during an already stressful situation. It's also important not to worry about matching your outfit, socks included. As long as you feel comfortable in what you're wearing, then there is no need to stress.
Wear something that's easy to remove and comfortable enough for recovery.
The hospital may also provide disposable underwear, which might make things easier for you. Or they may provide a gown that might or might not have snaps on the bottom for easy removal and may also be disposable depending on where it is purchased.
The important thing to remember is that you don't need anything too complicated, so make sure that your outfit fits in with what they're offering and doesn't restrict movement.
If you choose to bring your clothes, make sure they're loose-fitting but don't wear anything too tight because your body could swell up during surgery.
Some of the recommended types of clothes you can wear during the C-section include:
1.   Wide Leg Pants
These are important because they will allow you to move around freely and without restriction. They are also a good option if you intend to maintain a stylish look while still achieving the comfort that you so much desire. With the greater range of motion that these pants offer, you can trust that you'll have seamless movements anytime you have to move.
2.   Loose-fitting shirt or T-shirt
They are ideal for C-sections and allow for easy movement. They can be purchased from your local department store, but if you are looking for something more durable and affordable, consider buying them online.
3.   Loose-fitting Pants or Shorts
These are also ideal for C-sections and allow enough room to move around without restriction and during the hospital stay when going to visit other patients to prevent the spread of germs.
In addition, they can be easily removed if necessary because there is no need to remove the pants to change diapers or have a nurse check your wound.
4.   Slippers or Shoes
You can bring your slippers if they are easy to slip on because C-sections take a lot of time, so it would be best to have something you could easily put on when there is an emergency.
You can also wear shoes, but it would be best to wear something that you can easily slip on and off.
5.   Full coverage Bra
The easiest and most convenient outfit you can wear during C-section is a full coverage bra.
It will provide easy access for nurses to easily check on the baby. In addition, it won't be restricted in terms of movement should there be an emergency, and it's easier than wearing two separate pieces that would need to go together quickly if necessary.
6.   Socks
Make sure to bring a pair of socks because your feet could get cold during surgery. This is especially important if you're going into labor in the middle of winter, where it can be freezing outside.
You can always ask your doctor what type of clothes you should wear during your C-section before you start packing clothes for your surgery. Otherwise, the above options should give you a clue of what to wear.
Whatever clothing you choose to wear during the C-section, you should ensure it is easy to remove so you don't have to rub against the incision after the surgery is done.
Factors to Consider When Choosing What to Wear during C-Section
When setting off to the hospital for your big day, choosing the appropriate clothing to wear isn't always a smooth ride.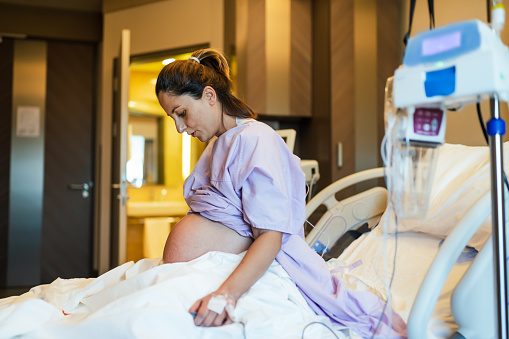 There are a few crucial factors you need to consider to make the best choice of clothes. These factors include:
Comfort 
You'll be going through a long day, and you don't want to end up wearing clothes that will cause pain or make it difficult for you to move around easily. Comfort should be your utmost priority.
Size
The clothing should fit perfectly on your body without causing any problems with circulation post-surgery. Avoid too-tight clothing as it may cause skin irritation.
Ease of Washing – 
The clothes you choose should be easily washable. Since lots of fluid mess happens during, and after the surgery, you'll need to keep changing clothes and this means, the need for some washing in between.
Bottom Line
Your doctors are best placed to advise you on the type of cloth you need to bring with you during the surgery.
This is because every hospital policy varies, and you can't be too careful when it comes to your health and well-being. The last thing you want is for anything to go wrong, so do pay close attention.
The most important part of the C-section process is simply being comfortable with what you wear during the surgery, but this isn't always easy if you don't have the right information.
I'm Cathrine and I'm a 39-year-old mother of 3 from Utica, New York. And I'm extremely happy you've come to visit my hide-out on the web. Here I post about everything related to family-life and usually it will involve babies and lessons I've learned over the years from experts, friends, and my own mistakes. So hopefully you will find what i write fun and informational!