In your baby care arsenal, pacifiers are an invaluable tool. You'll use them frequently in the first few months of your baby's life and for more extended periods as your infant grows. But to give your child the best hygiene for health and vitality, you're wondering, are Mam pacifiers dishwasher safe?
Mam pacifiers are top-rack dishwasher safe. You'll set your machine's water temperature or dryer cycle to sanitize or sterilize them. Whether your pacifier's nipple is made from silicone or latex is the determinate factor. Place pacifiers in a meshed basket or within the cutlery compartment, so they don't get lost within the machine.
Like all Mam products, pacifiers are BPA-free, lead-free, and anti-colic. As such, you can microwave, dish-wash, or boil in water for at least five minutes to sterilize. Find out how you can safely clean and sanitize your baby's pacifier and how long you should keep that up.
Can I Clean or Sanitize Mam's Pacifiers Using a Dishwasher?
Mam pacifiers place at the top of the list for sucking dummies recommended by moms everywhere. They feature nipples that fit your baby's mouth in any direction and come in various cute designs. That means that these anti-slip nipples are orthodontic-correct, Bisphenol-A, or BPA-free and often sold with a compact microwavable sterilizing box.
A Mam pacifier is handy to have around, especially when your baby is between newborn and six months old. To prevent bacterial or fungal infections from slowing your child's growth, you'll need an efficient way to keep dummies clean and sterile. Your washing machine offers just that type of solution. That's especially since you can sanitize with hot water and other baby-safe germ killers.
Before putting a Mam pacifier in your baby's mouth, inspect it, and clean it. If possible, sanitize it using your dishwasher sterilizing cycle. You should pull pacifiers in all directions to see if there are signs of weakness or damage. Use only dedicated holders recommended or offered by the manufacturer as some ribbons or cords increase the risk of strangulation.
Are Mam Products like Pacifiers Leaders in the Baby Care Market?
Mam pacifiers are available from your physical stores baby aisle or online, costing between five and 12 dollars. These dummies are uniform all around, meaning that there's no wrong way to place them in your baby's mouth. With air holes and a curved shield, they prevent irritation in your child's mouth while fitting in comfortably.
Mam pacifiers accommodate your child's healthy oral development from newborn up to 16 months or above. You may experience water vapor or moisture trapped in the nipple due to condensation. That happens when you've microwaved or put the binky in the dishwasher. The pacifier also doesn't have a ring, so you'll have to buy the manufacturer's clip-on ribbon.
Mam's silicone pacifiers are more suited to sanitizing using your dishwasher as they can withstand up to 150° Fahrenheit temperatures. Use your washer's sanitizer setting. The heating coil will bring water to a boil and eliminate 99.99% of all microbes present.
What Type of Dishwasher-Safe Pacifiers Does Mam Offer?
Ensure you replace your Mam pacifier in two months, but check the nipple regularly once your baby starts teething. Take any sign of tears or cracks as evidence enough to throw the binky away.
Types of pacifiers you'll come across include;
One-Piece and Multi-Piece Pacifiers
Mam pacifiers are mainly single pieces, comprising of a nipple fixed to a shield. The pacifier's guard is made from non-toxic hard plastic, while nipples are of latex or silicone. A multi-piece pacifier is usually constructed of three guards, a nipple, and a ring handle.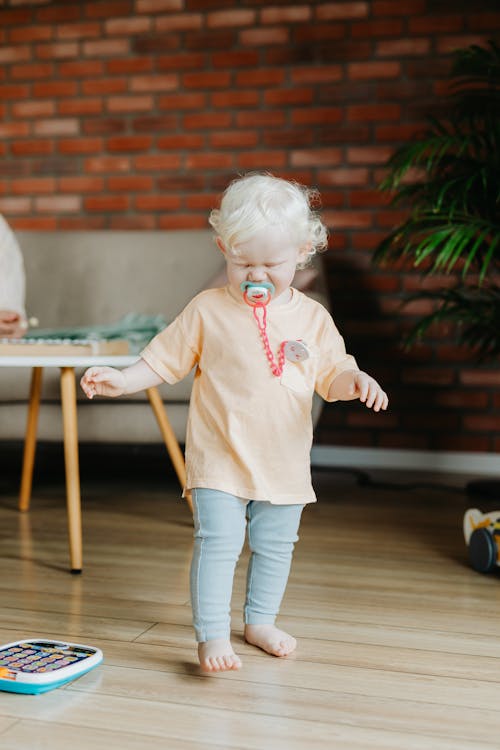 Moms gravitate more towards single-piece Mam pacifiers as there's less risk of choking hazards.
Natural Rubber Latex and Silicone Pacifiers
Mam pacifier nipples are made from natural rubber latex or silicone. The latter is silicon, hydrogen, oxygen, and carbon, which are all naturally occurring elements. While it allows for odor-resistant pacifiers, the material is dishwasher safe but contains chemical preservatives and softeners.
Rubber binkies are softer than silicone, and if your baby suffers from a latex allergy, you can't use this pacifier. The pacifier's nipple is made from natural processed material in which no chemicals are added. All of Mam's pacifiers are BPA-free, a substance that hasn't been used in the US since 1999.
Mam's silicone nipples feature SkinSoft proprietary technology for a texture that s more baby-friendly. The pacifier is small and light, so your child keeps it in their mouth easily, with ventilation holes on the guard so your tot can breathe.
Is the Mam Latex Pacifier Dishwasher Safe?
The heven tree is the source of rubber. Mam uses latex from trees in Thailand, locally processed. That means a purer product is achieved through leaching. There's no loss of quality from long transportation routes. That particular process causes their pacifier nipples to be less allergenic.
When compared to silicone teats, Mam's pacifier rubber nipples are softer and more bite-resistant. Rubber is darker and is dishwasher safe at lower temperatures than silicone. That means you can clean with your machine but sanitize using other options. It's especially essential when your baby is less than three months old.
Other than that, rubber or latex pacifier nipples have a slight flavor and rubbery odor. Because of this, some moms sometimes choose to opt out of this material and stick with odor-free silicone.
Mam offers pacifiers in sizes for newborns, 0 to 6 and over 16 months. You can also get specialized age-targeted brands. These include Holiday, Perfect, and Comfort series.  Seasonal and personalized pacifiers like the winter feature cuddly designs for zero to six and 6-plus month's olds.
Conclusion
Most of Mam's pacifiers contain silicone, although there are natural rubber options that are durable and bite resilient. You can put your child's pacifier in the dishwasher, possibly within a mesh laundry bag, to clean and sanitize. Even with constant heating, the nipples don't melt, and neither will materials generate unwelcome allergic reactions.
The consistency of your breast nipple is closely emulated by Mam's SkinSoft pacifiers. That ergonomic orthodontic attention to detail is what cushions and comforts your baby. The prosthetic is available for all sizes from newborns to older than 16 months. Each brand series feature unique designs, colors, and artwork. Clean and sterilize the pacifier in your dishwasher before putting it in your baby's mouth, even if it's brand new.
I'm Cathrine and I'm a 39-year-old mother of 3 from Utica, New York. And I'm extremely happy you've come to visit my hide-out on the web. Here I post about everything related to family-life and usually it will involve babies and lessons I've learned over the years from experts, friends, and my own mistakes. So hopefully you will find what i write fun and informational!